Jump to

December 17th, 2022
December 13th, 2022
December 7th, 2022
December 17th, 2022
🔥 New Features
INTEGRATIONS
Upgrade to to Rustici Engine Version 21
We have upgraded to the latest version of the Rustici engine to ensure the highest caliber support and performance as well as leverage new functionality included. The changes included in the upgrade were focused on bug fixes, performance enhancements, and added functionality for modern browsers.
December 13th, 2022
Bug Fixes
We released fixes for the following:
Rebuild Course-level Engagement Report in Looker
When multiple sublicenses are attached to a Training Credit Account, the account does not display as a dropdown option in the course detail page for the learners provisioned to those sublicenses
In Content Actions explores, "a LookML model issue occurerd" is displayed
December 7th, 2022
🔥 New Features
INTEGRATIONS
Credly x Thought Industries
Thought Indsutries integration with Credly provides learners a path forward to earn, learn, and grow through verifiable credentials. Thought Industries Admins can sync Credly badges to Thought Industries where they can control which badges learners can see and auto-grant a badge upon content completion. Learners will be able to see what badges are available and progress toward earning badges.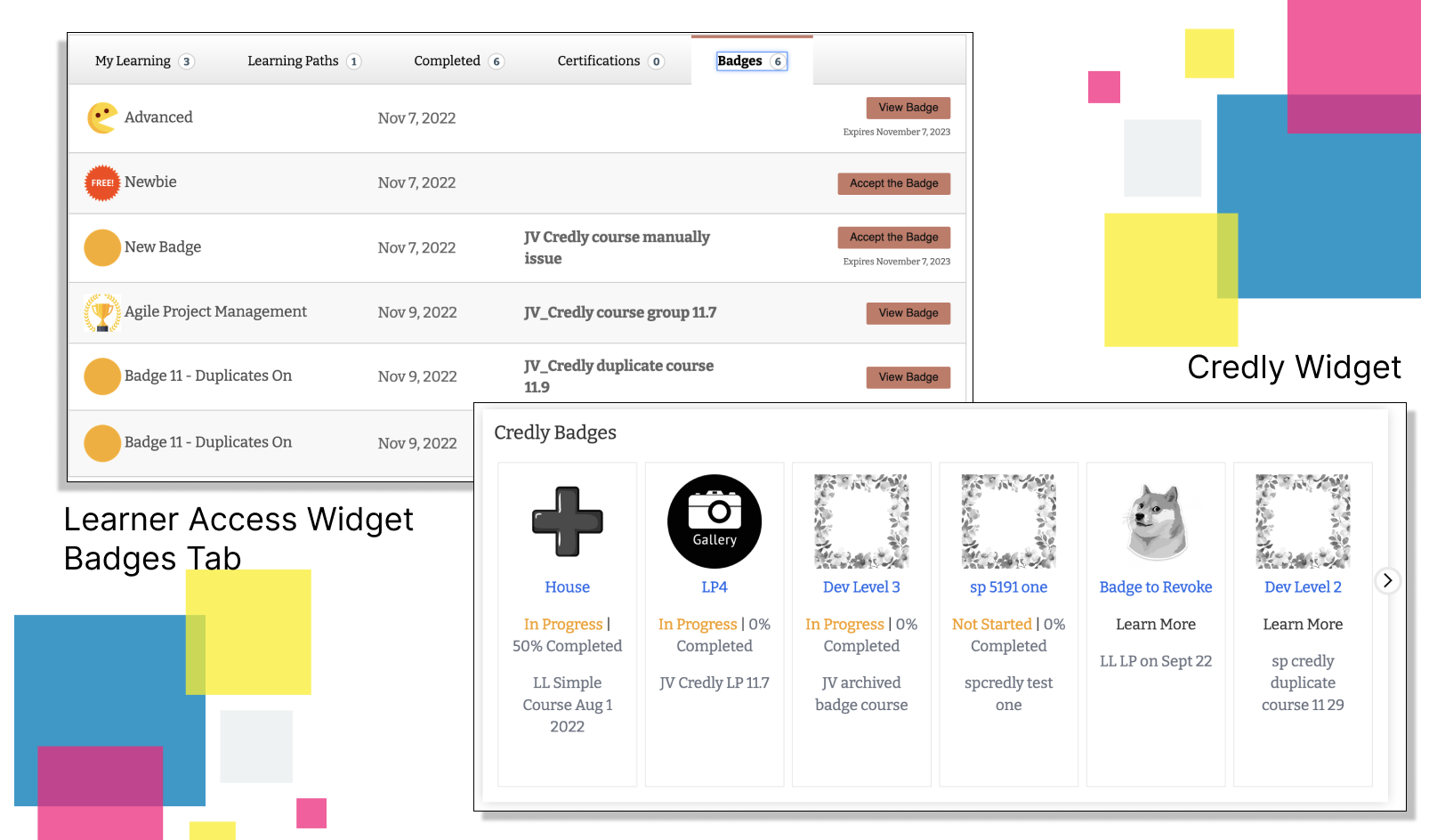 To learn more, visit Control Panel in your instance or see the new Credly article.
🔥 New Features
REPORTING
Management Actions Log: New Actions
Need to audit when users or clients were enabled and disabled? You can now have that visibility by tracking four new actions in the Management Actions Log:
user.enable
user.disable
client.enable
client.disable
Check out the article on Generating a Management Actions Log for more details.
🔥 New Features
USER MANAGEMENT
New Client Custom Role Permission
We've added a new role permission so that you can expand the content creation capabilities for panorama content authors. Our existing Panorama Creating Content and Editing Content permissions intentionally include a security restriction that prevents panorama managers from creating and editing SCORM, xAPI, HTML embed, and LTI content types.
After feedback from several customers, we're maintaining those existing permissions and also adding a new Creating SCORM, xAPI, HTML embed, and LTI content permission. Nothing will change for the user roles you already have set up, but you can now optionally create a new custom role with this new permission enabled.
Quality Improvements
We released the following quality improvements:
Course groups are now available as options in the dropdown Content filter on the Content Actions Log. To view the Content Actions Log, go to Reporting Hub > Library > Content Actions Log.
Some UX enhancements have been made to the Subscription Coupons list. The page is now laid out in a table format so it is easier to read. All other existing functionality has been maintained.