For content with multiple sessions, you can allow learners to reschedule or re-register into a new session. Once enabled, registered learners will have the option to reschedule into a new session from their dashboard or the detail page. They will be prompted to select a new session and their access will change accordingly.
To cancel a registration, learners will be directed to customer service. Once contacted, admins can remove the content access and cancel the registration.
Where do I find this?
Enable Rescheduling:
Content > Actions > Settings > Access > Advanced
Cancel Registration:
Users > Learners > Manage
How do I do this?
To enable rescheduling on a course or webinar with multiple sessions:
From your homepage, select Content.
Click the Actions drop-down next to the course you want to alter and select Settings.
Select the Access tab in the left menu and click the Advanced button.
Toggle "Allow Rescheduling" to "Yes." This setting will be applied across all sessions and will allow learners to reschedule into another enrollable session at any time (from the dashboard or detail page).
Click Save.
Tip
Remember to publish all sessions so they are presented as rescheduling options to learners.
To cancel a learner's registration:
From the Users tab, find the learner you want to modify and click Manage.
In the Access section, click Modify.
Click the trashcan icon next to the content you want to remove.

Note

If the removed access is a webinar, the registration will also be reflected within the webinar provider.

You may also need or wish to issue a refund.
What else do I need to know?
If the rescheduling or cancellation involves a webinar, the registration information will also update within the webinar provider.
All changes will be reflected in the Thought Industries reporting.

Reporting on rescheduling will be captured in the Course Actions report. The recorded actions will be reported as "revoked access" and "enrollment" of selected content with a source indicating "rescheduling."
Cancellations are reported as "revoked access" with a source indicating "manager revoked access".

Once the Allow Rescheduling setting is enabled, learners will see a Reschedule link on their dashboard, as well as on the detail page. Clicking this link will take learners to the rescheduling interface, where they will see all options available for enrollment. After they select a new session and click Reschedule, their previous access will be revoked and replaced with the new session.
What does this look like?
Learner View - Rescheduling: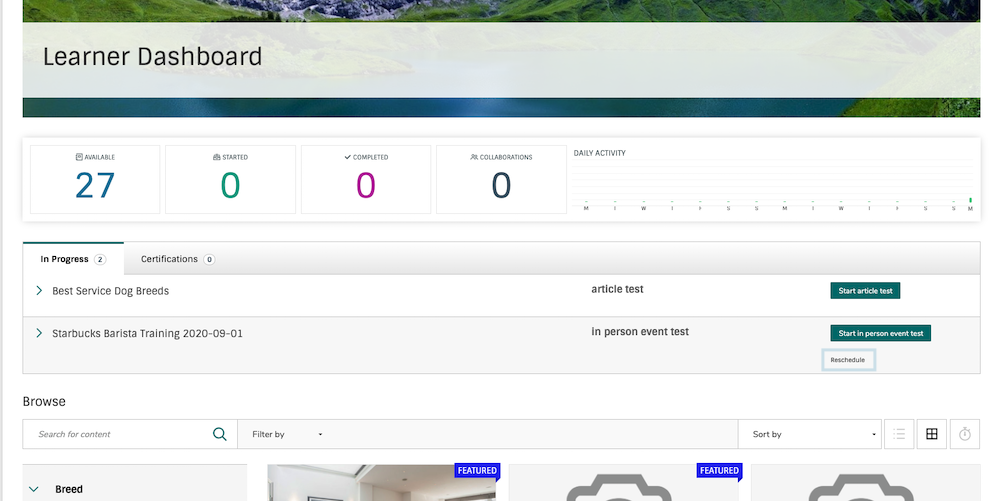 Admin View - Rescheduling:
Learner View - Canceling:
Admin View - Canceling: