Alchemer which is formerly known as SurveyGizmo, is an online survey tool that designs surveys, as well as collects and analyzes data.
Use Case Information
Alchemer features include branding, logic and branching, question types, and reporting. Alchemer Survey pages are used to integrate Alchemer surveys into a course that you author on the Thought Industries native course authoring interface.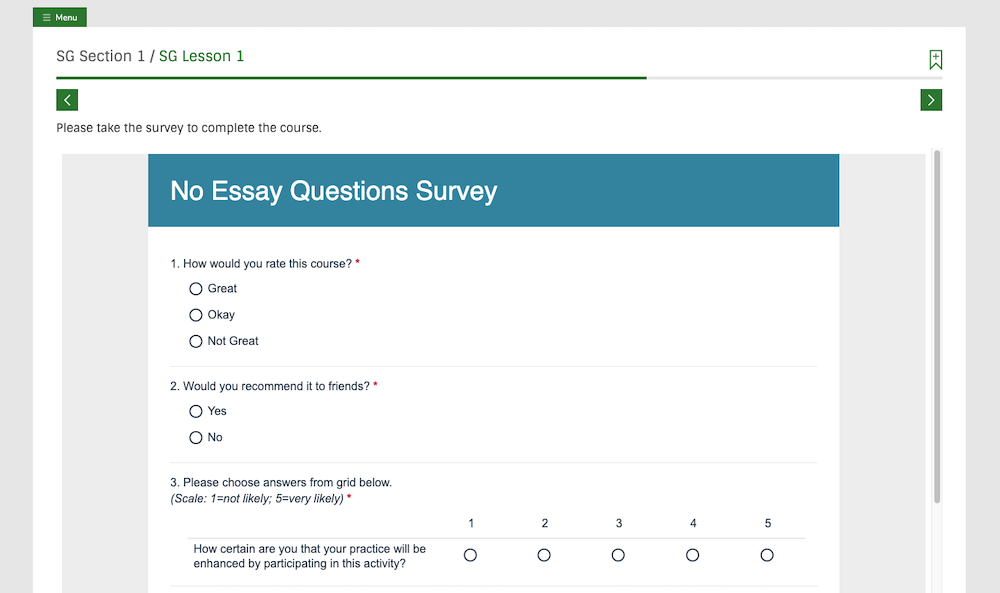 Note
Only surveys created with a paid Alchemer account are available to add to an Alchemer page. Alchemer Pages are behind a feature flag.
Navigate to Control Panel in your instance to request to have this feature enabled on your site.
How to Create an Alchemer Page
From your homepage, select Content, then Manage Content.
Click the Content Title for to the course you want to alter.
Within the course outline, go to the lesson where you'd like to add a Alchemer page. Click Add Page.
Choose the Alchemer page type.
Add a page title.
Click Save.
Enter the Survey ID.
Answer the question Is This An EU Alchemer Survey? by toggling Yes or No.
Enable for surveys created in Alchemer's EU instance with an Alchemer EU URL (survey.alchemer.eu). If you don't know which region your Alchemer account is tied to, please contact your CSM.
Enter a Survey Description.
Enter Width.
Enter Height.
Toggle Course Progress Prevention to Yes or No.
Click Save.
Select and save any applicable Advanced Settings:

Unlocking for editing by children?: This allows any page that is unlocked to be edited by a Client Admin in Panorama. The Client Admin will be able to make changes to the unlocked page in a course in their Panorama only (other Panoramas will not see these changes).
Add an Audio Narration File: Add an mp3 file here if you would like learners to have the option of playing an audio file on a given page.
# of seconds required for completion: This settings requires learners to be on this page for the number of seconds you require in order to mark the page as complete. Times is entered in seconds only (e.g. enter 180 seconds to represent three minutes).

Click Save.

Notes, Tips, and Considerations
Text Blocks: When using an Alchemer page, you have the ability to add additional information in text blocks. This can be helpful if you need to separate information, add images, or give directions for a specific question, etc.
Best Practice: Create a test learner so you can sign in as a learner and take the test to get the full learner experience. Refine your page settings based on your experience as a test learner.