Interactive page types are best used for breaking down an image with lots of parts. To provide additional context on specific areas of an image, clickable hotspots can be added with a text description, along with a smaller image and/or audio clip.
Where do I find this?
Content > Manage Content > Click on Content Title > Add Page > Interactive
How do I do this?
From your homepage, select Content, then Manage Content.
Click the Content Title for to the course you want to alter.
Within the course outline, go to the lesson where you'd like to add an interactive page. Click Add Page.
Choose the Interactive page type.
Add a page title.
Click Save.
Drag an image or click in the box to upload your image. Once image has been uploaded you can resize it. Be sure to click Crop & Select Image.
Drag a target button from below the image (left side) and place it on the image exactly where you want the hotspot to appear.
You can now add a caption, image and audio file to the hotspot item, then click Add.
Click Add a Text Block above or below the image area to add a text block with a description or directions on the page.
You can hide the sidebar or add image alt text under Interactive Options.
You also have these options under Advanced Settings:

Unlocking for editing by children?
# of seconds required for completion
Audio Narration File

Click Save.
What else do I need to know?
The placement of a hotspot cannot be moved once it's placed, so we recommend that you wait for a final image before placing your hotspots.
What does this look like?
Learner View: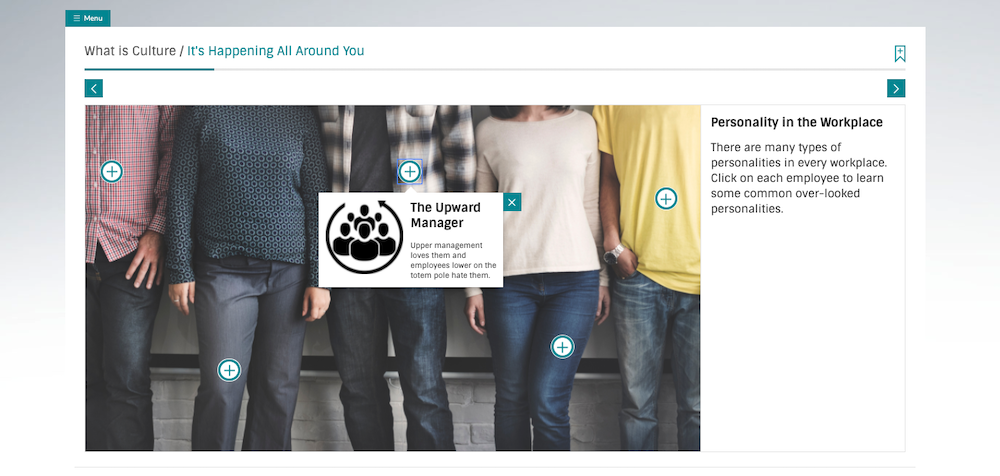 Admin View: