A recipe page is intended to display recipes to learners, including step-by-step directions, ingredients, and other relevant information.
Use Case Information
A recipe page is a perfect option for offering recipes for cooking, however, it can be repurposed in a number of ways since the standard language like "ingredients" or "Print Recipe" can be changed in Translations to terminolgy that matches the goals of your page.
Tip
An example of repurposing a recipe could also work well if you wanted to teach someone how to write a business plan with step-by-step instructions.navigation will allow your users to move from one page to another in the system. You can use your navigation set up to drive learners to new offerings, provide relevant information, or go to external sites.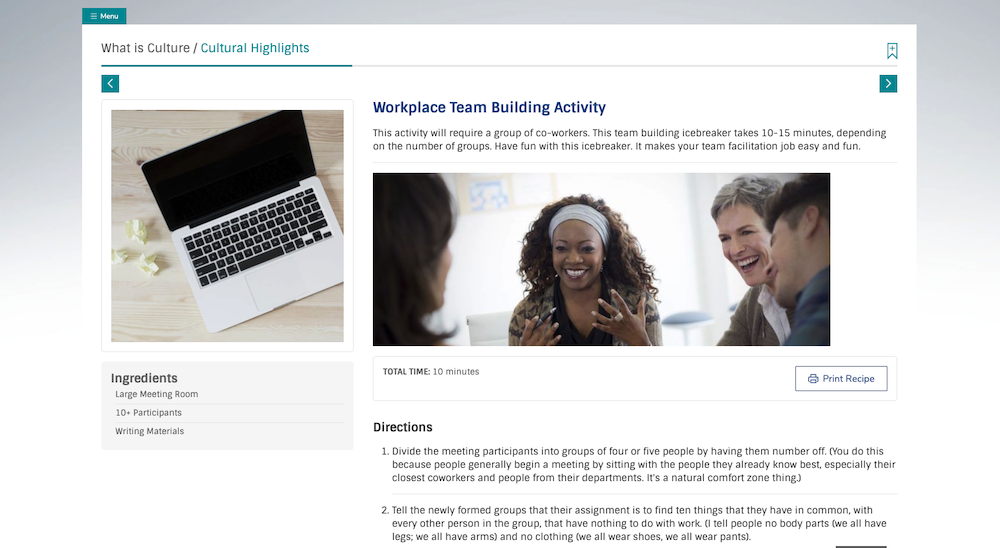 How to Create a Recipe Page
From your homepage, select Content, then Manage Content.
Click the Content Title for to the course you want to alter.
Within the course outline, go to the lesson where you'd like to add the page. Click Add Page.
Choose the recipe page type.
Add a page title.
Click Save.
Choose from the following fields to build out the recipe page. (Some fields are required, but others will not display to your learners if you do not populate them.)

Upload an image file.
Add ingredients and ingredient groups by clicking the plus sign and adding as many ingredients as you need. You can nest ingredients under the ingredient groups that you create. Use the arrows to drag and drop individual ingredients on the list.
Add nutrition facts by clicking the text field and adding text. Note that you can highlight the text in this field to reveal a WYSIWYG editor.
Add Recipe Info in the WYSIWYG editor to include total time and recipe yield.
Add Recipe Steps in one WYSIWYG editor per step.
Add Recipe Pairing suggestions by clicking the plus sign and using the WYSIWYG editor to format text.
Add text blocks the to page, which are found above Recipe Info and below Recipe Pairing.

Click Save for each field you populate.
Select and save any applicable Advanced Settings:

Unlocking for editing by children?: This allows any page that is unlocked to be edited by a Client Admin in Panorama. The Client Admin will be able to make changes to the unlocked page in a course in their Panorama only (other Panoramas will not see these changes).
Add an Audio Narration File: Add an mp3 file here if you would like learners to have the option of playing an audio file on a given page.
# of seconds required for completion: This settings requires learners to be on this page for the number of seconds you require in order to mark the page as complete. Times is entered in seconds only (e.g. enter 180 seconds to represent three minutes).

Note
Many of the text field titles on this page type can be altered in Translations. For example, you might decide to change the "Ingredients" text to "Materials" if you are using this page for something other than a recipe.