This is a page intended to display recipes to learners, including step-by-step directions, ingredients, and other relevant information. While this is a perfect option for offering cooking recipes, it can actually be implemented in a number of ways since the standard language (e.g., Ingredients, Print Recipe, etc.) can be changed in Translations. For instance, this could also work well if you wanted to teach someone how to write a business plan, or other processes with step-by-step instructions.
Where do I find this?
Content > Manage Content > Click on Content Title > Add Page > Recipe
How do I do this?
From your homepage, select Content, then Manage Content.
Click the Content Title for to the course you want to alter.
Within the course outline, go to the lesson where you'd like to add a recipe page. Click Add Page.
Choose the recipe page type.
Add a page title.
Click Save.
Enter information in the designated fields, such as Recipe Info, Recipe Steps, and/or Recipe Pairing. While some fields are required, others will not display to your learners if you do not populate them.
You can also add an image, ingredients, and nutritional facts.
You also have these options under Advanced Settings:

Unlocking for editing by children?
# of seconds required for completion
Audio Narration File

Click Save.
Tip
Many of the text field titles on this page type can be altered in Translations. For example, you can decide to change the Ingredients text to Materials if you are using this page for something other than a recipe.
What does this look like?
Learner View: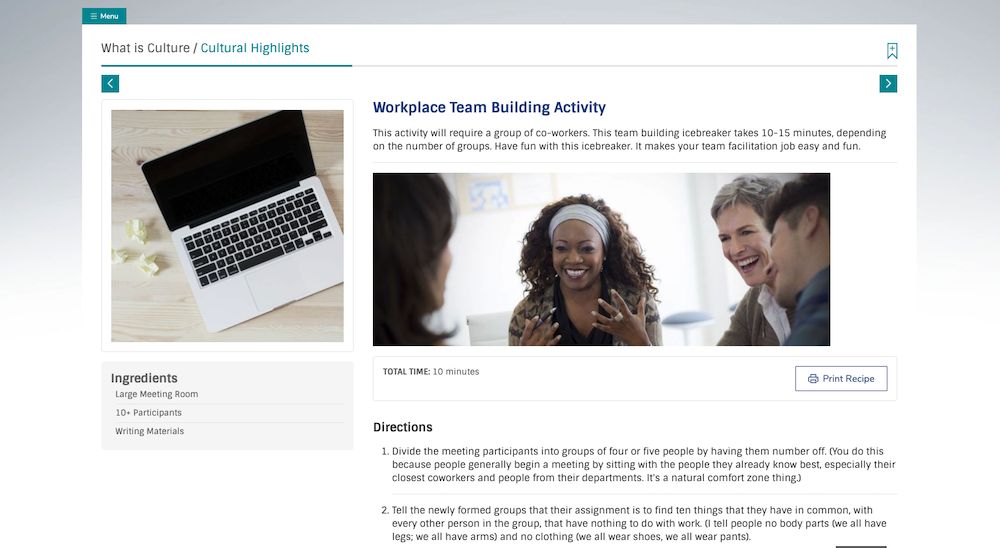 Admin View: