Slideshow pages allow you to add an image plus a title and description for each individual slide. This is best for showing step-by-step instructions or breaking down information into bite-size pieces using images.
Where do I find this?
Content > Manage Content > Click on Content Title > Add Page > Slideshow
How do I do this?
From your homepage, select Content, then Manage Content.
Click the Content Title for to the course you want to alter.
Within the course outline, go to the lesson where you'd like to add a slideshow page. Click Add Page.
Choose the slideshow page type.
Add a page title.
Click Save.
Click on Add Slide. Drag an image or click in the box to upload your image. Click Save Image. Once the image has been uploaded you can resize it. The recommended image size for each slide is 1400x1052 pixels, which is a 16:9 ratio, but you can use a different size if needed.
Give your slide a title and caption. You can also add Alt text or add an audio file. In addition, you can add a text box above or below the slide as a way to provide further information to the learner. Hover over the area above or below the slide and click Add Text Box. Click Save Slide.
Continue adding slides by following steps 7 & 8.
Toggle the "Show Sidebar?" setting to "Yes" if you'd like to display a sidebar (e.g., title, caption, description) to the right of each slide.
You also have these options under Advanced Settings:

Unlocking for editing by children?
# of seconds required for completion
Audio Narration File

Click Save.
Tip
Although audio is supported within a slideshow, we recommend using the presentation page type for better usability. The presentation page type also supports the upload of a PowerPoint or Keynote file.
What does this look like?
Learner View: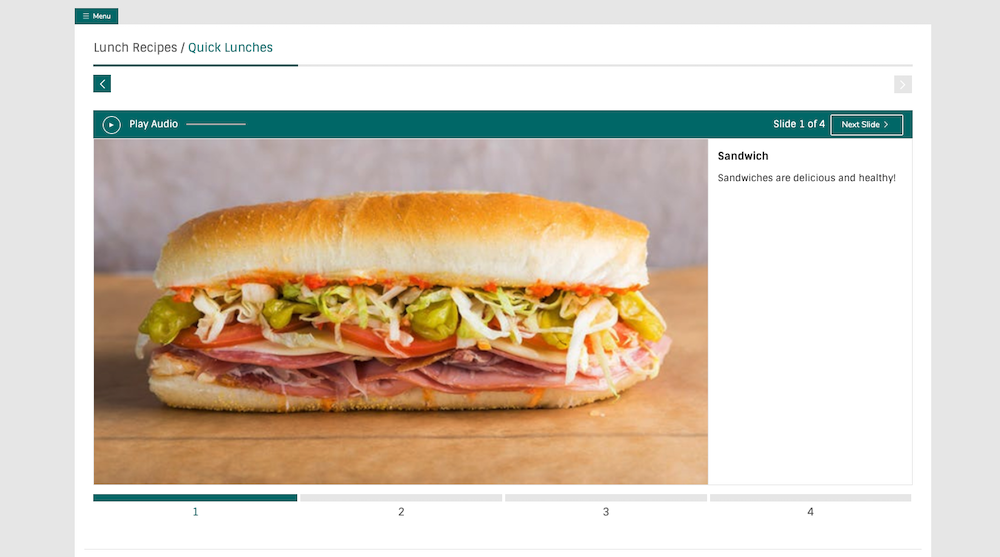 Admin View: