Practically one of the most powerful page types in the Authoring interface, the Text Page is designed to allow your content authors to fully customize the page in a very easy and flexible way.
Use Case Information
Text pages are predominantly used for displaying text copy, but they can also include images, tables, links, formatting options, amongst many more features available in the text box editor (WYSIWYG). This page type works best for introductory or other brief pages that relay content to learners.
Learner View: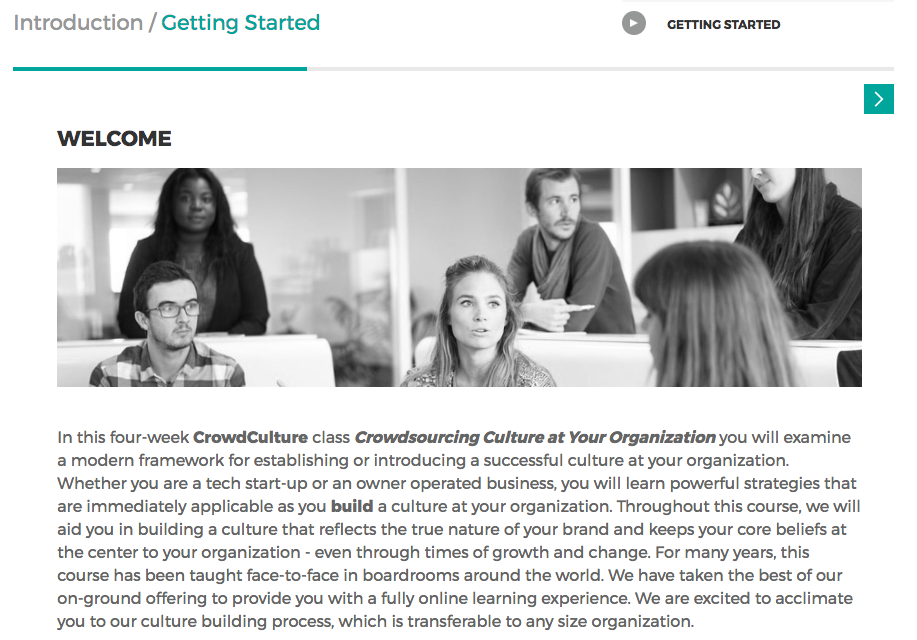 How to Configure a Text Page Into a Course
Below, please find the steps to include this content page into your course:
From your homepage, select Content, then Manage Content.
Click the Content Title for to the course you want to alter.

Within the course outline, go to the lesson where you'd like to add a text page. Click Add Page.
Choose the text page type.

Add a page title.
You can then cut and paste, type, or edit existing copy in the WYSIWYG editor. There are a number of formatting options inside the text editor, and you may also add custom HTML by selecting the HTML formatting link.
Click Expand Sidebar to expose a text box editor (WYSIWYG) where you can provide additional information to your learners in the right margin of the page. You can also add image Alt Text under this options menu.

Tip

If you are not planning on using the Sidebar it is recommended to toggle Hide Sidebar?

Quote: Click Add Quote and enter text that will be highlighted in a larger font in the sidebar.
Image: Click Add Image and drag or click to upload a sidebar image. You can also caption the image and add image alt text.
Video: Click Add Video and drag or click to upload a video to the sidebar. You can also use a Wistia Media ID to add your video.
Advertisement: Click Add Ad and enter DFP ad units, dimensions and targeting to pull your DFP ads into the sidebar.
HTML Embed: Click HTML Embed and enter code to customize a new component.


Tip

Once you add more than one item to the sidebar, you can adjust the order of these with the up and down arrows.

You can also find the following options under Advanced Settings:

Unlocking for editing by children? - This offers Panorama roles, who have the permission, to edit this page in your course.
Indentation Level -

The Indentation Level is behind a feature flag.

This allows for the syllabus in the course menu to be indented. When enabled, you can nest pages under each other.

# of seconds required for completion - Number of seconds required to mark this page as complete. If set, the learner must remain on the page (without refreshing or going to another page) for the number of seconds specified in order to be marked complete.
Audio Narration File - Although it is not system functionality to record audio in the platform, you can upload audio files.

Click Save.