There are a number of automated emails that are generated and sent out to learners, admins, instructors and other roles, when certain events occur. For example, Thought Industries will automatically send a password reset email to assist learners who forget their password. You can customize these emails in a variety of ways.
Use Case Information
Configure your email settings and customize your email language to ensure your learners are getting communications that are branded and fit your learning experience.
When configured you can control the following:
Custom Communication with Learners
Emails come from a branded From Address
Custom Header and Footer in all emails
Have custom language in default emails to learners
Tip
Email Verification is also something you can enable under Email Settings. If you'd like to learn more about setting up Email Verification for learners, go to this help article.
From your homepage, select Settings.
From the left menu, select Setup and then Emails.
Within the General section, populate the From Address and From Name fields.


Tip

By default, emails will be sent from notifications@mail.thoughtindustries.com or notifications@mailer.thoughtindustries.com. We recommend that you provide a branded From Name and From Address to match the branding on the site. This email address will also be used as the "reply" email address.

 

This default email address is not monitored. When you set up your branded email address, we recommend using a similarly non-monitored email address to avoid confusion.

Note

Learners may run into deliverability issues depending on the configuration of the domain in your From Address. If you decide to set this, be sure to see our Optimizing Email Deliverability article for more information.

The BCC Address is an optional field that you can use to receive a copy of every email sent by Thought Industries. This is a great way to see what emails we are sending, and can help with customer service or compliance.

Note

Only one email address is allowed as a BCC Address at the global level.

Tip

You can also add one BCC Address in each panorama client under Panorama > Edit > Design > Email Fields.

Within the Email Layout section, enter the Email Header and Footer, as desired. This setting controls the header and footer of every email sent.

Note

The system will automatically pull your logo into the header and customer service information into the footer. However, you can include additional information in these fields if you would like.

Within the Policies section, enter any terms that you wish to appear below the email capture form (whenever we capture a learner's email address). Any copy you enter into the Email Capture Terms field will appear below the email capture form. This can be used to highlight your privacy policy or any other legal requirements you may have.

Click Save.
Customizing email content
In addition to the boilerplate text above, you can customize the copy for these emails in the Translations tab.
From your homepage, select Translations.
From the left menu, select Email Content.
Here, you can customize the various copy that is used for all emails (e.g., subject line, header text, password reset copy). You can easily do a search for the language you'd like to change (e.g. password), then replace it with your custom text.

Note

Not all fields support HTML or other variables.

For any fields that currently include a variable, you may rewrite text around that variable.

Click Save.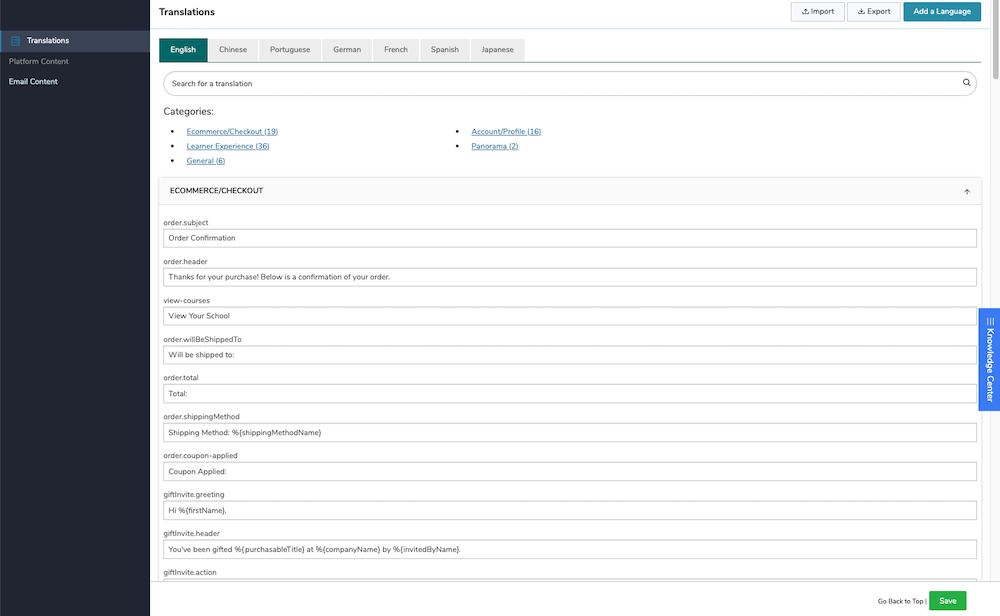 Tip
To view any of the automated emails, trigger the appropriate event within your learning site using a valid email address.