Awards are automatically granted to learners upon completion of certain actions (e.g., completion, time spent). By using your own naming conventions (e.g., credits, CEUs, points, etc.), you can grant any kind of award you would like.
Once you've set up the award type and the qualifications that will trigger the award, learners will be granted awards based on their activity. You can decide if you want learners to be able to see awards on their dashboard.
Where do I find this?
Settings > Gamification > Awards
How do I do this?
From your homepage, select Settings.
From the left menu, select Gamification and then Awards.
Click Add Award Type.
Name the award type by entering a singular and plural label. Click Save.
Toggle "Include on Dashboard?" to "Yes", if desired. You will then be prompted to select a dashboard icon to be associated with the award. When enabled, this award type will be visible on the learner dashboard.
Click Save.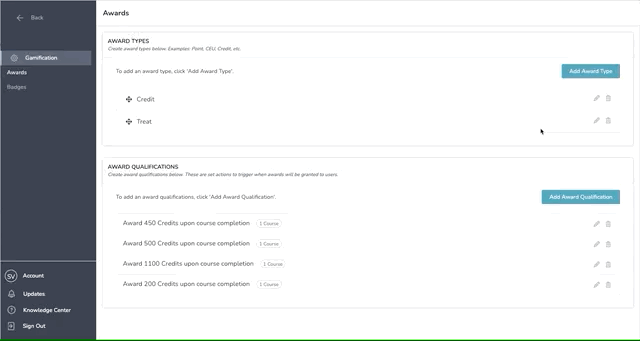 Creating an award qualification:
From your homepage, select Settings.
From the left menu, select Gamification and then Awards.
Click Add Award Qualification.
From here, you'll be prompted to select one of the award types that you set up in the steps above.
You'll also need to select the criteria for Award When. This is the action that will trigger the award.
Select the specific content you want to attach the qualification to. You can select specific pieces of content, or check Award For All Courses (or content).
Lastly, enter the # of award types that you will award for each event triggered.

Note

The # of award "points" must be greater than 0.

Click Save.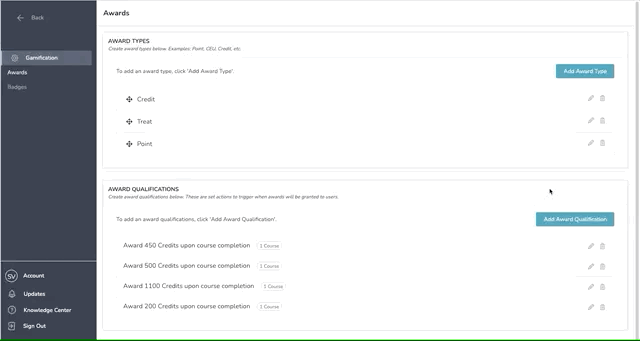 Note
Some reporting is gathered in real-time and some is gathered as part of a nightly process. Therefore, some awards will be granted to a learner immediately and others will not be granted until the following day.
What else do I need to know?
Admins can manually grant awards to learners by going to Users > Learners, and locating the learner's email address. Click Manage for that user, and then click the Awards tab. By clicking the Manually Grant Award button you will be able to select the award type, amount to award, as well as which content piece it should be attached to. Click Save.
Reporting on awards is available at Reporting Hub > Library > Learner Actions > Awards Details. Here you can filter by award type, date, learner, or role type as well as download the report.
Warning
Upon deletion of an award type, all qualifications using this type will also be deleted. As a result, no further award grants will occur for this award type or associated qualifications.
Similarly, upon deletion of an award qualification, no further award grants will occur for the deleted qualification.
What does this look like?
Learner View (Award Report on Dashboard):