Client Admins and Client Managers are two Panorama-specific roles that can be used to allow clients to log in themselves, check on the status of their learners, view reports, and perform basic learner management tasks.
01
Client Managers
Client Managers can perform the following duties:
Edit basic learner information, such as name, email address, and password.
View the list of learners in their client, and see partial learner profile information including Details, Access, Payments, and Transcript.
View content list and preview content.
Revoke access to content (cannot add access to content).
Disable login.
Moderate Discussions.
Take assessments on behalf of learners.
View Client reporting.
Email Client learners.
02
Client Admins
Client Admins can perform the following duties:
All Client Manager privileges listed above.
View individual content reports.
Export SCORM (if SCORM Connect is enabled in your instance).
Add learners.
Manage registration & redemption codes.
Manage assessment attempts for individual learners.
Manage multiple clients.
Create/edit sublicenses.
Add and revoke sublicenses for a learner.
Where can I find this?
Users > Managers
How do I do this?
From your homepage, select Users, then Managers.
Locate the role that you want to review in the left hand list and click on the role title.
Once the role is selected, click the gear icon in the top right of the screen to see a dropdown list of options including:

Add User

Click Add User to invite a new user by entering first name, last name, and email. Be sure to select the appropriate client and sublicense(s). Optionally, include an invite message.

View Role Permissions

Click View Role Permissions to view the permissions granted to a built in role or to edit permissions for a custom role.

Edit Role Requirements

Click Edit Role Requirements to configure timeout and password requirements.

Download CSV

Click Download CSV to get a list of users assigned this role in CSV format.

Download JSON

Click Download JSON to get a list of users assigned this role in JSON format.
Adding a Client Manager requires that you assign a Client as well as one or more sublicenses.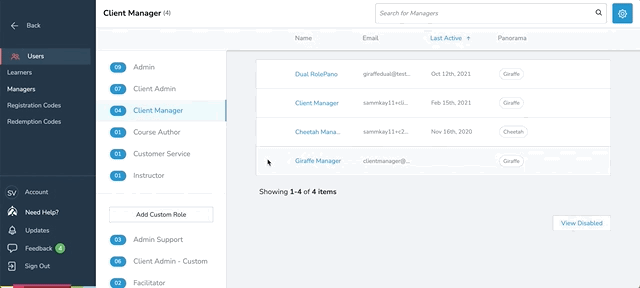 Adding a Client Admin requires that you assign at least one Client to the role. This role does not require a sublicense because it has the permission to Manage Multiple Clients enabled.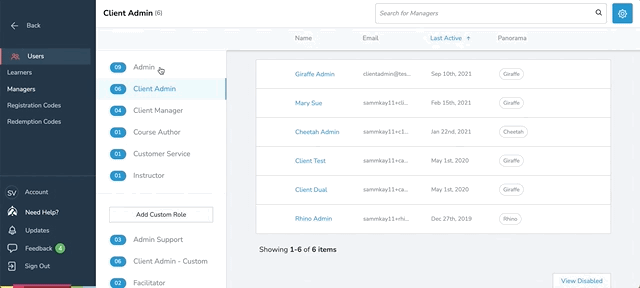 Tip
If these default permissions do not suit your needs, you can create a custom client role with a different mix of permissions. Pay close attention to the asterisks when creating a custom client role as they highlight permissions that may expose sensitive site-wide information. See Managing Admin Users for more information.
What else do I need to know?
It is expected that a site admin will perform all other duties, such as customizing the client account appearance, etc.