Subscriptions are an offering you can create using the native ecommerce Thought Industries functionality
Use Case Information
A subscription grants learners access to select content through periodic payments, either monthly or yearly. Learners will only have access to the content that is included in the subscription for as long as they subscribe. You have full control over what content is included and for how long.
When configured you can control the following:
Create a subscription options based on a range of content offerings
Create an All Access subscription
Allow trials to subscriptions
Note
We highlight a single subscription on the course detail page and therefore we recommended that only one subscription should be marked as both all access and purchasable at a time.
How to Set Up a Subscription
From your homepage, select Ecommerce.
Click Ecommerce Items, then Add Ecommerce Item.
Select the subscription template.

Add a title for your subscription.

This title will be displayed to the public.

Next, you will be asked to add the settings/display information for your subscription, including:

Subscription Name: The learner-facing title
Short Description: The description for used in the catalog, as well as the description that displays above the detail page image.
Tags: Use a organisational tag to help you stay organized, as well filter and find this collection easily in your eCommerce interface.

Note

Organisational Tags are different than content tags used for provisioning content, as noted below.

Custom Fields: adding any value for your Custom Fields that were previously created in Settings > Content > Organize and Display. This value will help your learners filter and find this collection.
Meta Title: Use for Search Engine Optimization purposes. 
Meta Description: Use for Search Engine Optimization purposes. 
Confirmation: This confirmation message displays after your learner completes a purchase.
Image: Use for both catalog thumbnail and detail page image. 
Ribbon: Apply the appropriate Ribbon from the selection you have created in your Settings > Content > Organization and Display.
SKU: Use for reporting purposes.
Monthly Price: The cost of the subscription if a user purchases on a reacurring montlhy paid basis.
Yearly Price: The cost of the subscription if a user purchases on a recurring yearly paid basis.
Trial Period: How long the trial period be should be, if any, before the initial transaction is taken.
Instructor Messaging Included: This allows your learners to message the instructor and applies to any courses in this collection.

Note

Instructor messaging must be enabled in Utilities within Step 1 when creating a course before including this feature in your collection. It is there where you include the instructor's email to be included in Instructor Messaging.

All Access:  This subscription will offer all released content to the user.

Tip

If checked, all course detail pages will display an option to purchase this subscription as an upsell. The learner can still purchase the individual content.  

Select Content: Select the content to include in the subscription.
Learning Paths: Select the learning paths to include in the subscription.

Warning

Carefully consider the content items you include in a subscription. If you include a course as well as a learning path that contains that course, it's possible that the learner could enroll in the course with out following the learning path order.

Content Tags: Select which tag or tags learners should have access to. This includes Courses as well as other content such as Articles and Webinars
Taxable: The Avalara tax settings are configured at  Settings > Integration > Avalara and can be applied to make the subscription taxable. 
Available for Purchase:  Toggle to Yes to expose the price in your catalog and allow learners to purchase the item. 

Note

You will not be able to change price / trial information after this is checked.

Warning

Do not enable the Available for Purchase option until you are ready to make the bundle live to your learners.

Show in Catalog: Toggle to "Yes" to release the subscription so it is exposed in your catalog. 

Note

Users can only add one subscription to their cart at a time.

Subscription Type: The template you used to create the subscription will be exposed to your learners, however, this is fully customizable and could be edited to reflect your language. 
Click Save. 
Admin View of Configuration

Note

Learners will access subscription content, and choose which course(s) they would like to view, via the Catalog widget on their dashboard. Therefore, it is crucial that the Catalog widget remain on the learner dashboard. Once a learner opens a course, it will move to the Dashboard Access widget that shows which courses are in progress, completed, etc.
Adding Tabs to the Detail Page
At the right of the subscription editor, you will have the option to add custom tabs using the provided templates. To do this, click Add Tab and select a tab type.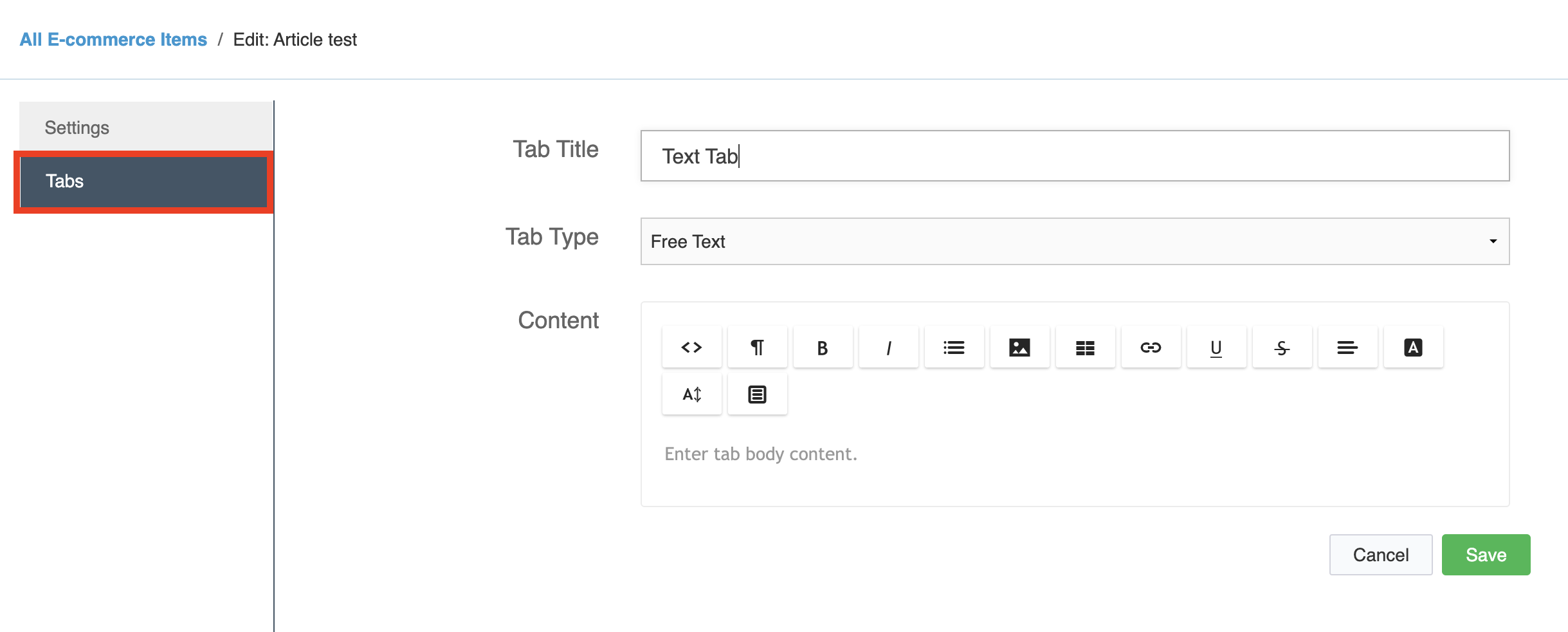 There are 3 different tabs available:
01
Free Text
A Free Text editor, also known as a WYSIWYG, to allow you to add any infomation, images and formation as needed.
02
Instructors
The Instructors tab allows for the addition of a full name as standard text, A Bio which is also a free text editor and a headshot. the Headshot has a suggested size of 400px by 400px.
03
Products
The Products tab allows you to attach products, digital or physical, that you have set up in the eCommerce section of Thought Industries. These Items can then be added to the cart and made purchasable by the user visiting the detail page.
Learner View: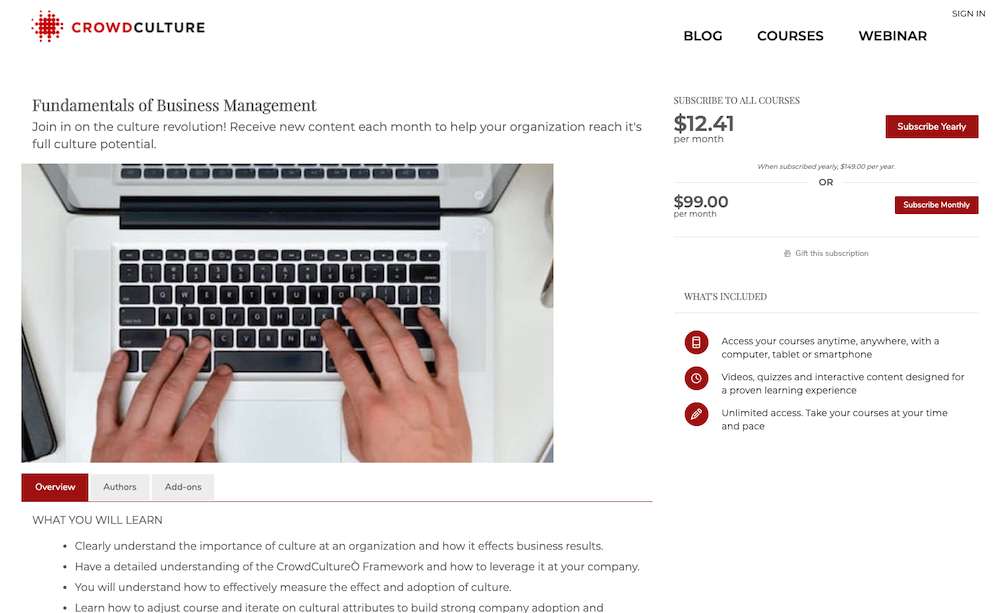 Notes, Tips and Considerations
When considering offering products for your users to purchase, here are some additional facts to keep in mind:
You can easily edit your subscription at any time by going to eCommerce > Actions > Edit. This path will bring you back into the Settings tab for that particular subscription item.

Warning

If you have Stripe set up on your instance, you will be unable to change a subscription's price once it is available for purchase. Therefore, you should ensure you input the correct price(s) before making it purchasable.

Learners are able to manage and renew subscriptions, and update their details.
Tip
If you are interested in offering a discount for your learners, you can create coupons for them to apply to their purchases.You can create a subscription coupon to apply to any of your subscriptions created in the eCommerce section of the platform. You can set up the desired coupon, along with any limits that should apply, and distribute to learners for use at checkout. To understand more visit our article Creating a Subscription Coupon