On a course, you can set a range of completion options for a learner. This completion criteria will then determine whether or not your learner is eligible to be awarded any certificates that you add.
Below you will find instructions for setting up your completion criteria. For more information on adding a certificate, see our Attaching a Certificate in a Course article.
Where do I find this?
Content > Manage Content > Click on Content Title > Completion Step
How do I do this?
From the homepage, select Content, then Manage Content.
Click the Content Title for the content you want to alter and go to the Completion Step.
Click Add Completion Criteria.
Click the drop-down to Select a Criteria Type:

01

Percentage of Pages Viewed

Enter a % required of the course in total to be viewed. When using this criteria type we do not recommend using 100%, as some pages may not be as important as others.

02

Percentage of Video Viewed

The learner is required to view a specific percentage of the video.

03

Assignment Complete

Select an assignment that must be completed.

04

Assessment Passed

Select one of the course assessments that must be completed.

05

Page Viewed

Select a specific course page that must be viewed.

06

Meeting Attended

The learner must attend the meeting to satisfy this criteria.

07

Time Spent Viewing

The learner must consecutively view the content for the time amount specified.

08

Survey Gizmo Complete

The SurveyGizmo must be complete to satisfy this criteria.

09

SCORM Complete

The SCORM file must return a 'complete' status to satisfy the criteria.

10

xAPI Complete

The xAPI file must return a 'complete' status to satisfy the criteria.

Make sure to fill out all required fields such as a specific page or a percentage.


Note

Pages must have a title & be published in order to show in the required drop down menu.

Click Save.
What else do I need to know?
Multiple completion criteria options can be added to a single course, but they will all have equal weight. Example: If you have two criteria, each criteria will be worth 50% of course completion to the learner. To add more than one option, click Add Completion Criteria.
The course must have the page types associated with the completion criteria for the option to be available. For example, for the Assignment Complete criteria to be an option, an Assignment page has to be present in the course.
Tip
If you'd like the Learner to view the completion criteria in courses, toggle the setting "Show Progress?" to "Yes" under Content > Manage Content > Click on Course Title > Utilities (left sidebar) > Display tab.
What does this look like?
Admin View: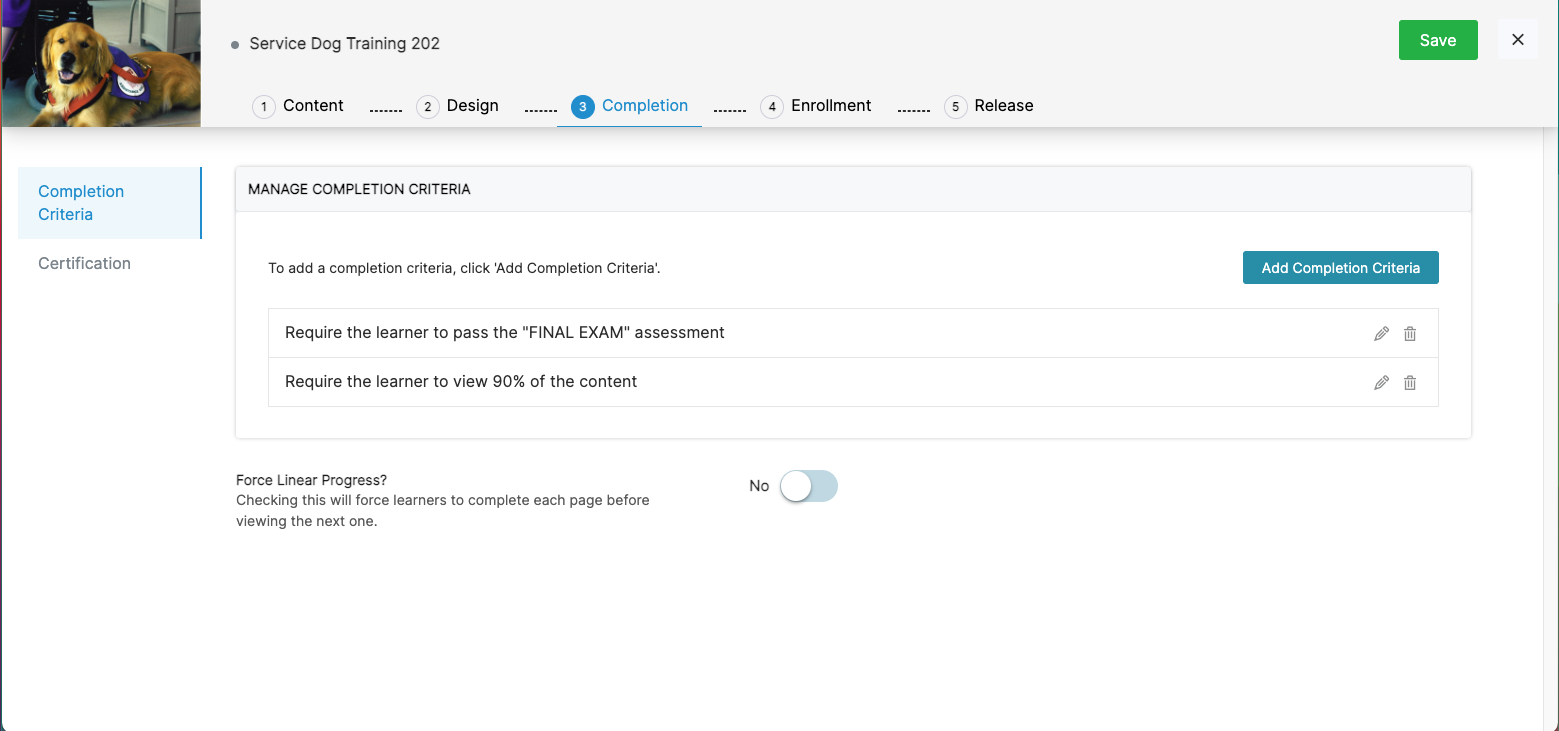 Learner View:
Progress displays in the course navigation menu.
This screenshot does not show an example of Meeting Attended or xAPI Complete criteria.