In the event that you'd like to reuse content from an existing course, you can very easily copy a course within your Thought Industries learning site. Any changes made to the initial course will not impact the new course, and vice-versa.
From your homepage, select Content, then Manage Content.
Click the Content Title for the course you want to copy and then go to the Release Step.
Click Copy.
Enter your New Course Title.
Click Copy Course. The copied course will now appear in the Manage Content List and can be edited separately from the original course.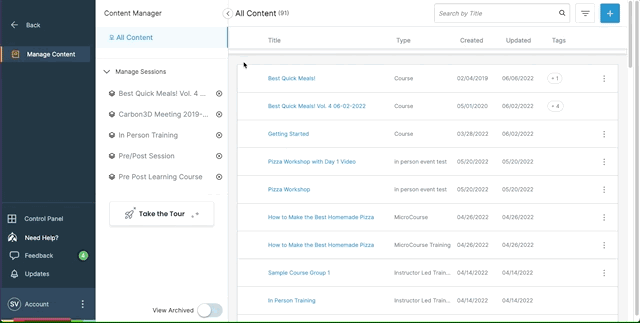 Note
VILTs, SCORM, and xAPI content types are not available to copy.
Which Settings or Assets Do Not Copy Over
Although copying a course keeps the content in the outline and some general settings, some settings and fields do not carry over to the new course from the original. We always recommend going through the authoring steps to set up the new course before releasing to your learners.
Here are the fields that do not copy over to the new course:
SKU
Ribbon
Certificates
Force Linear Progress
Related Content
Prerequisite Content
Credit Requirement
Award Claiming
Testimonials
Course Utilities - Show Progress toggle
Custom CSS
Note
This list is referring to copying a course in the same instance. If you are copying courses across instances, this list may be different. The course outline and content will copy over across instances, but we recommend checking all other course settings to make sure the new course is set up properly.
If you're interested in copying courses between instances, see this help article.
Tip
If you're interested in copying an existing page from one lesson to another, see our Copying an Existing Page article.
Tip
Use an asterisk to denote a wildcard and search for partial strings. For example, searching for "bas*" will return results for "basic," "baseball," and "Count Basie Orchestra."