At the end of a course or other content types, learners will be prompted to rate and review your content. These testimonials are a great way to provide feedback from previous learners to possible future learners. Importantly, you can choose which ones you want to display on the detail page.
To view and publish Testimonials:
From your homepage, select Content, then Manage Content.
Click the Content Title for the course you want to alter and then go to the Release step.
From the left sidebar, click Testimonials. You will see all testimonials submitted.
To publish a testimonial to the detail page, click Set As Featured next to the desired testimonial.
To remove a testimonial from the detail page, click Remove As Featured next to the desired testimonial.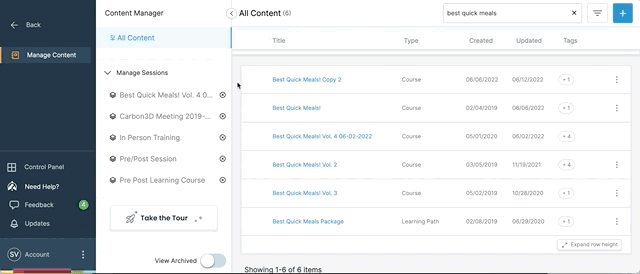 Note
If a testimonial does not include text, it cannot be published.
To display Testimonials on the detail page:
In order for testimonials to display on a detail page, the Testimonials tab must be added to the detail page.
From the homepage, go to Content > Manage Content.
Click on the Content Title and go to the Design step.
Click Edit Catalog Settings and go to the Detail Page tab.
At the bottom of the modal, choose Add Tab, and select the Testimonials type.
Note
We don't recommend adding this tab option until you have had learners complete and rate your content, otherwise the tab will be empty.