Studies prove that videos have several benefits when incorporated into self-paced content. Some of those benefits include increasing motivation, reducing cognitive overload, and maximizing retention (just to name a few).
Use Case Information
Videos allow you to present a lot of information in a short period of time (in lieu of text-heavy pages). The video template creates a standalone, scrollable text page featuring a video at the top (with multiple settings & features available). This is a great way to add a human touch if you have a guiding figure/spokesperson.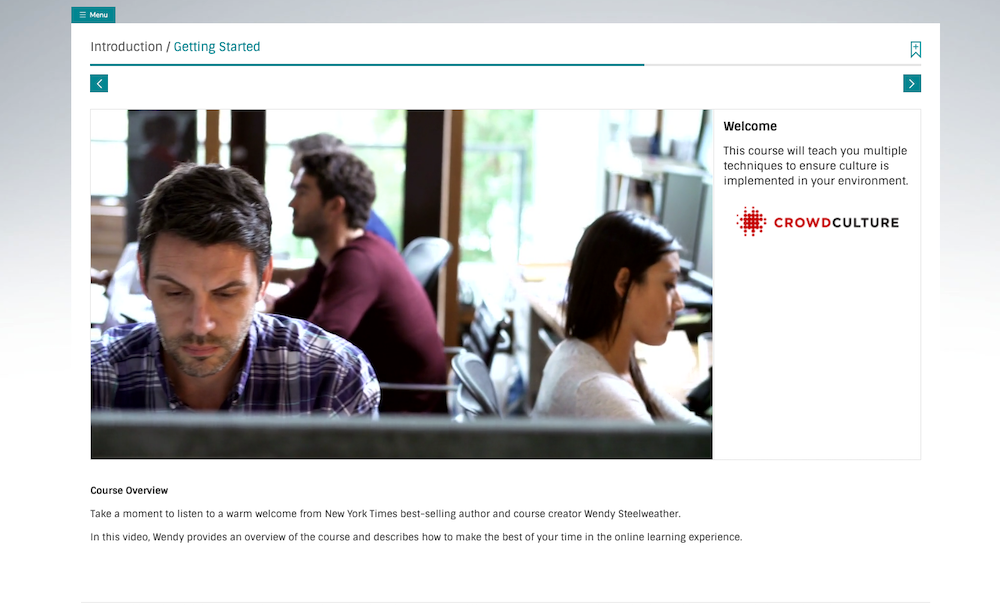 How to Configure the Video Page Into a Course
Below, please find these steps to include this content page into your course.
From your homepage, select Content, then Manage Content.
Click the Content Title for to the course you want to alter.
Within the course outline, go to the lesson where you'd like to add a video page. Click>Add Page.
Choose the video page type.

Add a page title.
Click Save.
Drag video or click in the box to upload your video. If you've already uploaded your video to Wistia, you can add the Wistia Media ID to upload the video. Click Save Video.

The page will display the uploading progress. Make sure not to navigate away or refresh the browser while the video is uploading.
You can also find the following options under Advanced Settings:

Unlocking for editing by children? - This offers Panorama roles, who have the permission, to edit this page in your course.
Indentation Level -

The Indentation Level is behind a feature flag.

This allows for the syllabus in the course menu to be indented. When enabled, you can nest pages under each other.

# of seconds required for completion - Number of seconds required to mark this page as complete. If set, the learner must remain on the page (without refreshing or going to another page) for the number of seconds specified in order to be marked complete.
Audio Narration File - Although it is not system functionality to record audio in the platform, you can upload audio files.

Click Save.
Available Features on the Video Page type
Once your video is uploaded you can add a number of additional features:
01
Add Additional Context To Your Videos
Add a text block above or below the video to provide learners with additional information about the video.
02
Expand Sidebar
Decide if you want to show or hide the sidebar for this page. By default it will show the sidebar, which will expose a text box editor (WYSIWYG) where you can provide additional information to your learners in the right margin of the page. You can also add image Alt Text under this options menu.
03
Add a Description to the Video
Write a description for your video. This will be displayed in either the sidebar when it is turned on or below the video when the sidebar is turned off.
04
Caption Your Video
Add captions to the video and specify the time in the video for the caption to appear.
05
Include Pre and Post Roll
Add a pre/post-roll video. You can drag or click to upload pre-roll and post-roll videos. This will take a few minutes before being ready. Note that pre-roll videos have no controls. Users must watch the full video ad and can't forward or rewind.
06
Add Poster Image
Find a screenshot in the video you would like to use as the launch screen that users will see when they arrive on the page. Pause the video on this screen and click the Use Current Time for Poster. Note that it may take up to 30 minutes to register the new screen. You can click away from this page as it processes.

Admin View: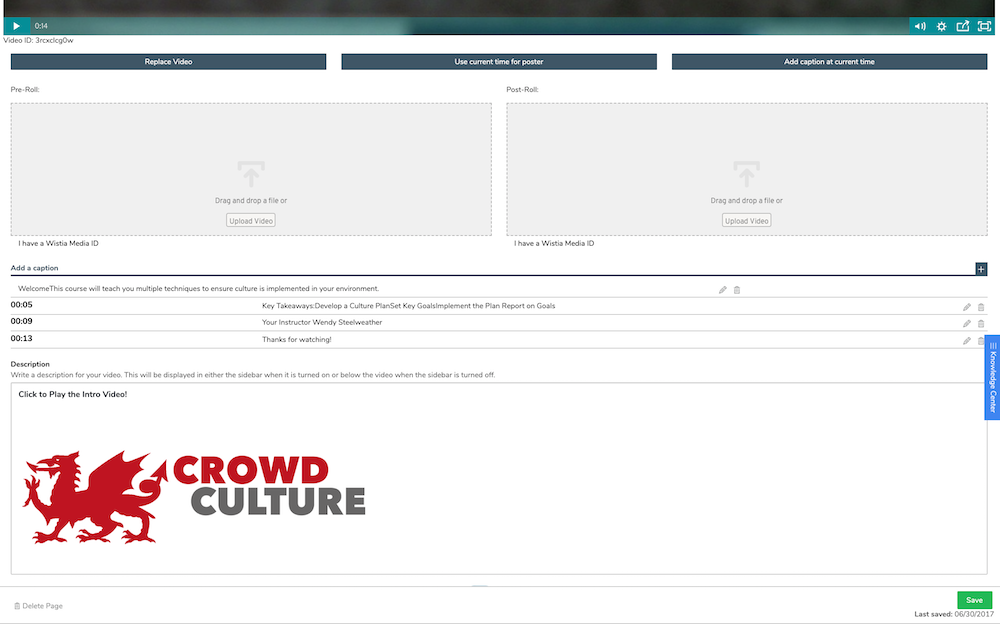 Note
It can take a few minutes for your video to display after upload. During this time the video is being compressed and prepared for delivery.