Articles are used to display informative material to be read as a single page. The article template creates a standalone, scrollable text page with multiple settings and features available.
Where do I find this?
Content > Add Content > Add Article
Tip
You can create a custom content type using the article template. Custom content types help you accomplish a couple of things:
1. Displaying a different content name to learners (i.e. Blog or Quick Read)
2. Reporting can be monitored by content type

Because of this, you may have multiple content types built on the article template. You can choose any content type at the 'Add Content' step because building out any article content type is the same functional experience from an admin perspective.
How do I do this?
From your homepage, select Content.
Click Add Content.
Choose the article template by clicking Add Article.
Enter the article name and click Save.
Select the Language.
Enter copy to be displayed for Subtitle, Body, and Copyright.
Other options:

Upload PDF for Download: This will create a "Download PDF" button on the left menu.
Add Audio Narration File: This will create a "Play Audio" button on the left menu.
Enter External URL and Call To Action: This will create a "Purchase" button on the left menu.

Click Save Language Variant.
If you need to add additional language variations of this article, click "Add Language Variant" and follow the above instructions to continue building out your article.
What else do I need to know?
Publish Changes: To make new content or edits visible to learners, you must save the language variant and click Publish Changes at the top of the screen.
Release to Catalog / Unrelease from Catalog: To make the article visible in the catalog, click Release at the top of the screen. Note that you can hide the article from the catalog anytime you want. You can also schedule content to show on a specific date by clicking the small clock icon to the left of the Release button.
Preview Article: To preview the article as a learner would see it, click Preview Article at the top of the screen.
Note that if multiple language variants are created, a drop-down will appear on the left menu of the learner view allowing learners to select a language.
Like any other content, changes can be made to design, pricing, availability, testimonials, etc. by going to the content settings at Content > Actions > Settings.
What does this look like?
Learner View: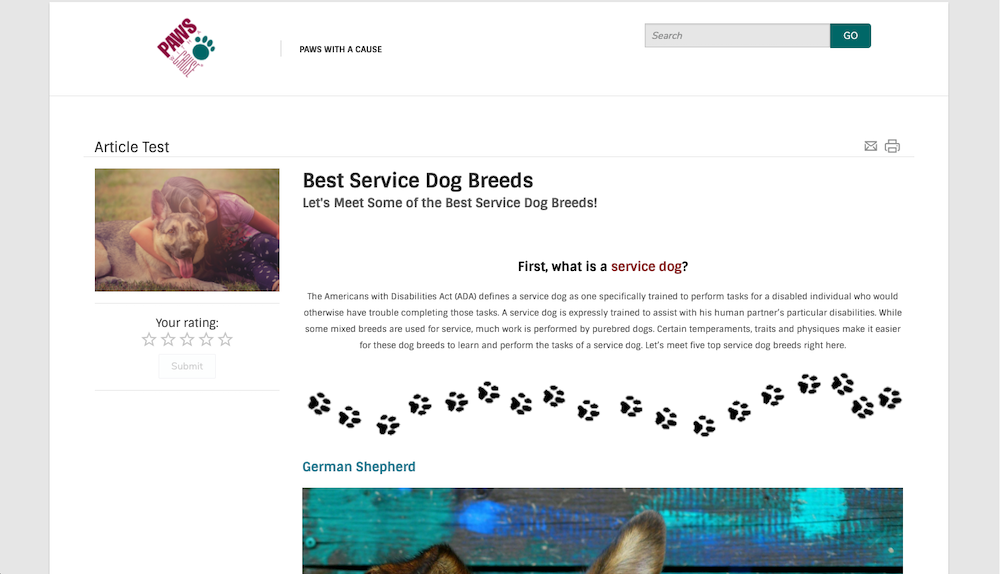 Admin View: