When custom branding is enabled, learners within this client will see a fully branded experience, including the client's logo and color scheme that will display throughout the entire learning experience - from the landing page to invite emails to learner dashboard and within the content learner view.
Where do I find this?
Panorama > Actions > Edit > Design
How do I do this?
There are two settings related to branding inside of each panorama client:
Enable Branding / Design
Enable Custom Email Settings
You can enable or disable both settings options by navigating to Panorama > Actions > Edit > Settings > Primary.

This article will focus on branding related to logos, theme colors, fonts, and layouts. To learn more about custom email settings, please see our article on Configuring Custom Email Settings for a Panorama.
From your homepage, select Panorama.
Click the Actions drop-down next to the client you want to alter and select Edit.
From the left menu on the page, select Design.
Without enabling branding, you are able to customize the following:

Panorama Learner Dashboard
Landing Page


Tip

If you would like to add a logo or custom colors to these pages or emails, enable branding for the client (see steps 5 & 6).

If you would like to add logos and customize colors, click Enable Branding under the Branding section.


In the branding section, you are able to customize the following:

Site Name
Logo
Font
Theme Colors
Background Image
Navigation Links

Remember to click save at the bottom of the branding section after each change.
01
Site Name
Add a site name to display next to the logo on the landing page.
02
Logo
Upload the client's logo for a white labeled experience for learners assigned to this panorama.
Note that if you Enable Branding and do not upload a logo, in place of the logo, the Panorama name will simply show as text in the top left corner on the landing page or dashboard.

04
Theme Colors
Set a custom primary, secondary, or link color. Note we will call out when a color may be too light for accessibility reasons.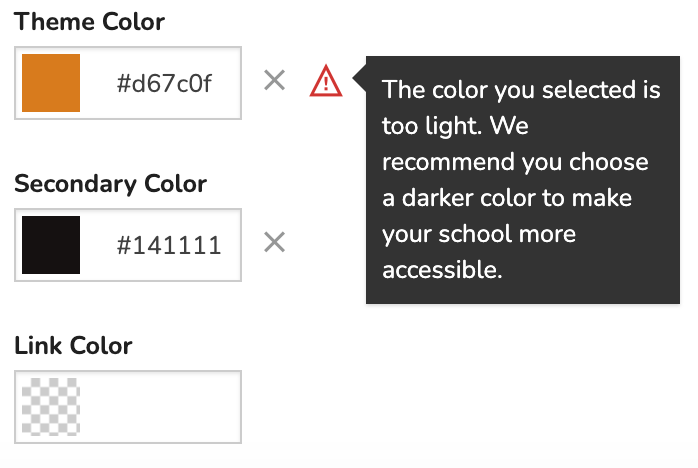 05
Background Image
Add a background image that will show behind the landing page, dashboard, and inside of courses.
06
Navigation Links
Once branding is enabled, navigation links are no longer mirroring any links set at the site level. If the panorama needs global navigation links, you can add them here. They will show at the top of the landing page and the learner dashboard.

Designing & Customizing the Dashboard and Landing Page:
01
Landing Page
Click Design Landing Page to add or remove widgets to customize the landing page. By default, the landing page shows the Redemption widget.
Note
If you are planning on using redemption or registration codes, you must keep the Redemption Widget on this page to ensure the user flow works correctly.
02
Panorama Learner Dashboard
Click Add Custom Layout under Dashboard Layout to add or remove widgets to customize the learner dashboard. By default, the dashboard includes the Hero Image widget, the Dashboard Stats widget, the Learner Activity widget, and the Catalog widget.
Tip
Learners assigned to a panorama will access content from the Catalog widget on the dashboard, so it's important that this widget remains on the learner dashboard.
What else do I need to know?
Each client has their own custom slug at the end of your URL that can be fully branded to that group. For example, if Coca Cola is the client, the custom URL could be http://www.yourcustomdomain.com/coca-cola.
If you would like to further customize the URL, you can do so by launching a Panorama Custom Domain.

Panorama Custom Domains are a premium feature and behind a feature flag.

Reach out to Thought Industries Tech Success & Support to get this feature enabled in your instance.
What does this look like?
Admin View: