The Course Content Search feature enables the learner to search within a course for specific text. The search results populate the lesson titles, section titles, page titles & content matching the specified text.
Where do I find this?
Content > Manage Content > Actions Menu > Preview
How do I do this?
Navigate to view a course and you will see the search bar at the top of the left course navigation menu.
Enter the text in the search bar.
Hit Enter OR click the magnifying glass icon on the left of the search bar to execute the search.
View search results on the course page.
Click on results to jump to page or click Back to Lesson to go back to previous course content.
Hit the 'x' in the search bar to clear text.
This search feature is behind a feature flag.
Reach out to Thought Industries Tech Success & Support for assistance to enable this feature in your instance.
What else do I need to know?
Search is not available within PDFs, Images, SCORM Files, or Presentations.

Only published content is searched and populated.

The Search Bar display is only available for logged in learners with full access to the course.
What does this look like?
Learner View:
Search Bar in Course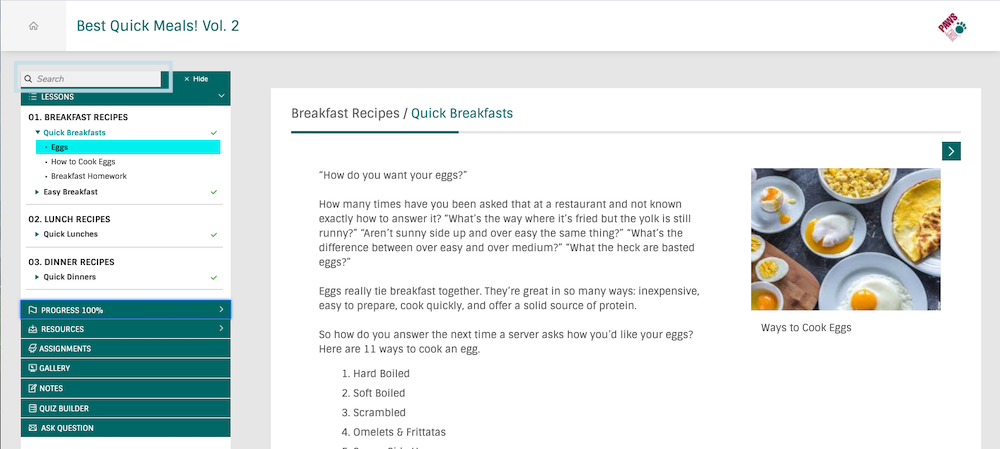 After executing the search, the course page will update with results and display the Section, Lesson, Page, and Content applicable to the search.

Click Back to Lesson to view previous content.

Admin View - View a Course: