Use image tiles to showcase multiple content items. Add information like the Content Title, Description, or Author, etc. as needed.
Where do I find this?
For standard layouts:
Design > Layouts > Actions > Edit
For custom pages:
Design > Pages > Actions > Design
This widget is available in the following layouts:
Homepage
Video
Transcript
Article
Support
Registration
Redemption
Learning Path
Dashboard
Catalog
Custom Pages
How do I do this?
Tip
Content must be Released in order to display to the learners in Image Overlay Tiles widgets.
Add an Image Overlay Tiles widget to your page by clicking on the widget item in the widget menu on the left.
Select Content Type to display in widget: Dynamically Display Content or Manually Create Content.


01

Dynamically Display Content:

Choosing this option allows you to select content individually or through a query. Either way, the information is pulled from the actual content settings so the tiles will update dynamically as changes are made to the content (i.e. title change, description change, image change, etc.).

02

Manually Create Content:

Choosing this option allows you to have flexibility on the Item Title, Item Description, Item Image, and the Item Link. Any values in these fields will override the display in the content tiles.

Display checkbox options apply when you link to a Content Item in the Item Link field. This allows you to dynamically display some of the information.

If you've chosen to Dynamically Display Content, populate the widget by selecting content individually or writing a query.
If you've chosen to Manually Create Content, begin by adding Items (click the "+ Icon" button).

The items will be sorted in the order they are added.

Add a Title.

If you choose to turn on "Use New Title Display", it will offer a CTA Button option.

Choose display options for content items.
Select Row Width (1-5 items per row).

All items added to this widget will display on the page so row width can be used to even out the rows of content if desired. For example, if you have 6 pieces of content, you can choose the row width to be 3 items per row and the widget will display 2 rows with 3 pieces of content each.

Add a sidebar if desired.
Click Save.
Options available in the widget:
Title
Use New Title Display
Dynamically Display Content:

Populate Widget
Content Sort Order
Number of Items (max 50)

Manually Create Content:

Item Title
Item Description
Item Image
Item Link

Content Display Options
Row Width
Select Sidebar Type

RSS/Atom Feed
Static Content

CSS Classes
Tip
After making updates to your page design, we always recommend viewing the final product from a learner's perspective to get the full effect.
What does this look like?
Learner View:
Showing 3 items per row & 3 items in total added to the widget.

Admin View:
Choose between Dynamically Display Content or Manually Create Content.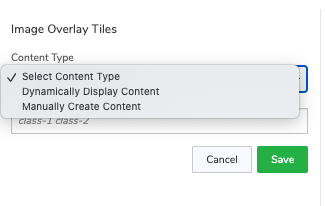 Dynamically Display Content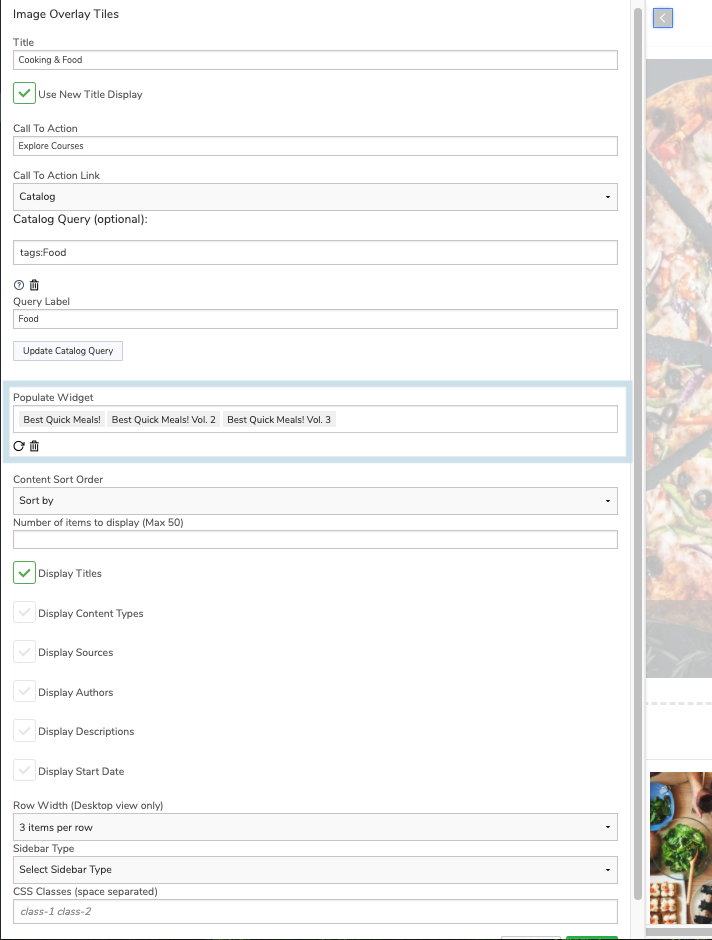 Manually Create Content