Using the Purchasable Content field in a Panorama, managers can curate content outside of the provisioned Panorama content to display as an option in the catalog to purchase.
Use Case Information
The feature works in conjunction with the toggle, Enable Accessing Content Outside of Panorama. When enabled, the manager can allow the learner to have access to all content outside of the provisioned content to purchase, or select specific content the learner can purchase.
Note
Purchased content is independent from content provisioned to a learner via Panorama, so learners keep access to their purchased content if they lose access to their Panorama content/license.
Adding Purchasable Content to a Panorama as an Admin
You can display any content not currently provisioned to the Panorama or you can specify purchasable content, individually or via tag.
Tip
If content is not specified in the purchasable content field, all published content will be available by default. We highly recommend specifying purchasable content either individually or via tags.
Tags can help tremendously to automate this process!
From your homepage, go to Panorama > Settings > Primary.
Enable the toggle Enable Accessing Content Outside of Panorama.

This settings allows users in the Panorama to see any content not currently provisioned to the Panorama and respective sublicenses. It is recommended to continue on to the next steps to specify purchasable content.


From the Panorama dashboard, navigate to Settings, then Access.
Add Content to the Purchasable Content fields (manually or via tag) as needed to limit what the learners will view as purchasable in the Panorama catalog widget.

Click Save.
This is how Purchasable Content will be exposed to Panorama Learners. Content without a price is the content provisioned to this Panorama, whereas content that is monetized reflects the Purchasable Content this learner can purchase on their own.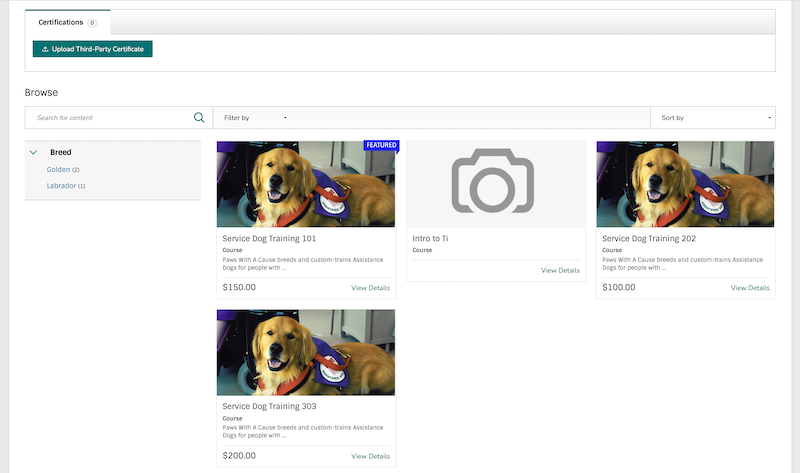 Note
If the content is not displaying properly in the Panorama catalog widget, check the following:
Ensure you are testing as a learner role with that Panorama and a sublicense assigned to the test user.
Check any custom catalog settings by navigating to Panorama > Actions > Edit > Design > Dashboard Layout > Design Layout. Then click the Pencil icon on the catalog widget. Custom settings may include queries or provisioning to limit the content displaying in the catalog widget.
Make sure purchasable content is available for purchase by enabling Make Purchasable in the content settings on the eCommerce page (Content > Click Content Title > Enrollment step > eCommerce tab). 
Note
Purchasable Content cannot be assigned at the sublicense level.
Note
This functionality is limited to content items and cannot be used with eCommerce Items, like products, subscriptions, and collections.