The Reporting Hub Library is a robust, highly-visual reporting suite that offers platform performance insights through a set of curated, native reports. These powerful out-of-the-box reports are built with customers' business goals in mind.
Use Case Information
Use Library Reports to understand overall program performance, including program successes and areas for improvement.
Below are key terms to help understand which report type is best for your data needs:
Log: Single table with basic time-stamped data
Overview: High-level visualizations + insights
Details: High-level visualizations + insights with detailed table views
Feel like your reports need some additional insights? We also offer the ability to manage meaningful business metrics with flexible, personalized data options so the most critical reports are ready whenever you need them. Check out our article about how to create a custom report with the Explore section of our Reporting Hub.
You can also allow Client Admins and Client Managers to generate reports in Panorama Reporting Hub.
Navigating the Library Landing Page
From the homepage, click Reporting Hub > Library.

There are essentially three sections of the Library landing page that enable you to access individual reports: the report category tabs at the top of the page, the list of out-of-the box reports, and the recently viewed reports list.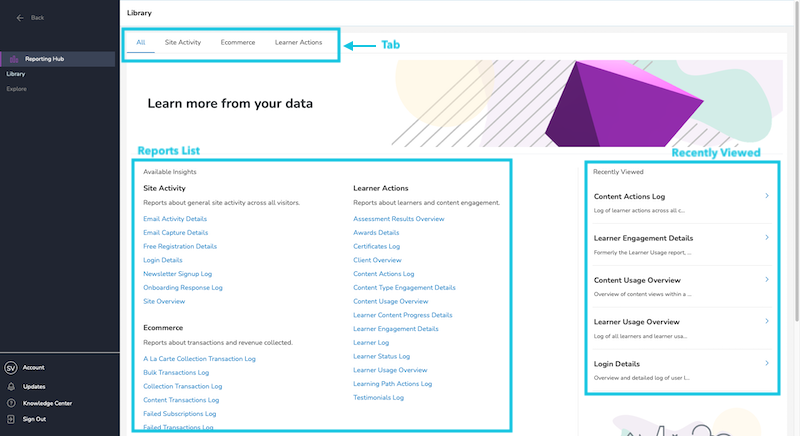 01
Report Category Tabs:
Library reports are displayed on the reports list landing page. If you'd like to see a short description of each report, navigate to the category tab of that report.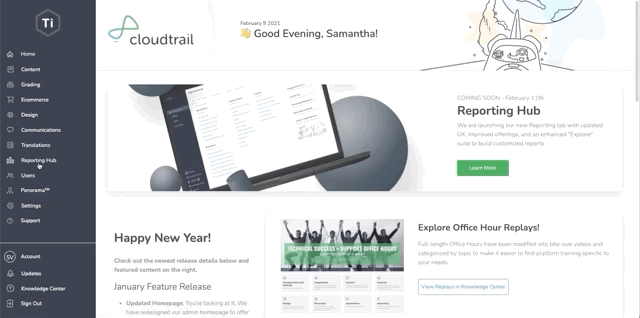 02
List of Out-of-the Box Reports:
Get easy, one-click access to any out-of-the-box report found in the Library.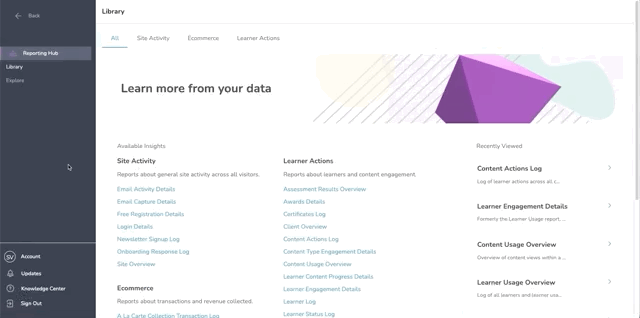 03
Recently Viewed Reports:
This area of the landing page displays the last 5 reports you have personally viewed.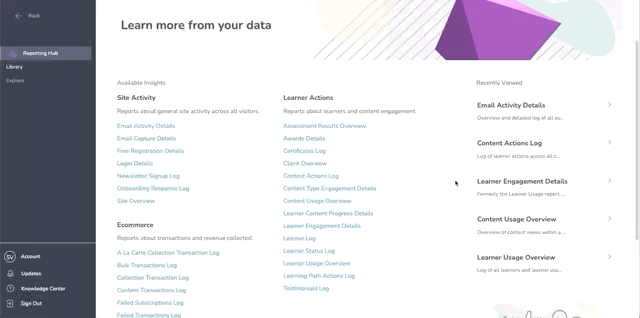 Tip
Longer descriptions of reports can be found at the top of each report page. Simply click into any report to see this information.

Viewing and Running Reports from the Library
After clicking Reporting Hub > Library, you can use the following three methods to access reports:

Directly from the reports list. For example, click Testimonials Log.

Navigating to a reports category tab, then to a report. For example, click Site Activity tab > Management Actions Log.

Using the Recently Viewed list. For example, click any report on the Recently Viewed list.

Click on a report to open it and view the data. If this is the first time you are visiting the report in a one hour time window, the data will automatically run.
Most reports have filter options. If applicable, update your filters and click Update (the clockwise arrow) to refresh the data with the filters applied.
Tip
For optimal query performance, data is cached for one hour. View when the report data was last run in the top right corner of the data tile.


How to Troubleshoot a 401 Error
If you receive a 401 error that reads ''You are not authenticated to view this page'', it is usually an issue with your internet browser. Below are solutions to apply for two popular browsers:
02
Solution 2
If you are using Chrome, try these two solutions:
Tip
Reports cannot be viewed in an Incognito window, so be sure to use a standard Chrome window. If you still cannot view reports, we recommend using another browser, like Firefox, to view reports.