We have brought some of the reports and features you know and love from the Reporting Hub into Panorama! Panorama admins and managers (as well as custom roles with the right permissions) have access to a select library of reports, the ability to create their own custom looks and dashboards via the explore option, and even favorite.
The Panorama Reporting Hub is behind a feature flag.
Reach out to Tech Success & Support at support@thoughtindustries.com or via Help Center to request to have this feature enabled on your site.
Disclaimer
Thought Industries' Panorama Reporting Hub (PRH) functionality is made available to our customers for their internal business and reporting purposes, and is intended for users that have been authorized by our customers. By opting-in you are confirming that you will grant access to this functionality only to those authorized in accordance with your platform access and security policies. PRH allows HTML-to-iFrame access via Thought Industries' interoperability with Looker, a third-party service provider, and may allow your users to input or inject HTML script into certain fields within the PRH, creating risk for our customers. For this reason, only trusted users should be granted access to PRH. For more information concerning Looker's HTML sanitization policy please visit www.docs.looker.com. You may opt-out of PRH functionality at any time by checking the appropriate OPT-OUT box within the PRH DISCLAIMER notice window.
What's covered in this article:
01
Roles
Roles with access to the Panorama Reporting Hub:
Site Admins
Client Admins
Client Managers
Custom roles with 'Viewing Client Reports' permission enabled
02
Library Reports
Panorama > Actions > Edit > Reporting > Library
Users will have access to the Library tab which will include 6 reports. These are reports the user has always had access to.
Admin Credit Actions (if Panorama Credit Currency flag is enabled)
Client Engagement
Content Usage
Credit Usage (if Panorama Credit Currency flag is enabled)
Learner Usage
Onboarding Response Log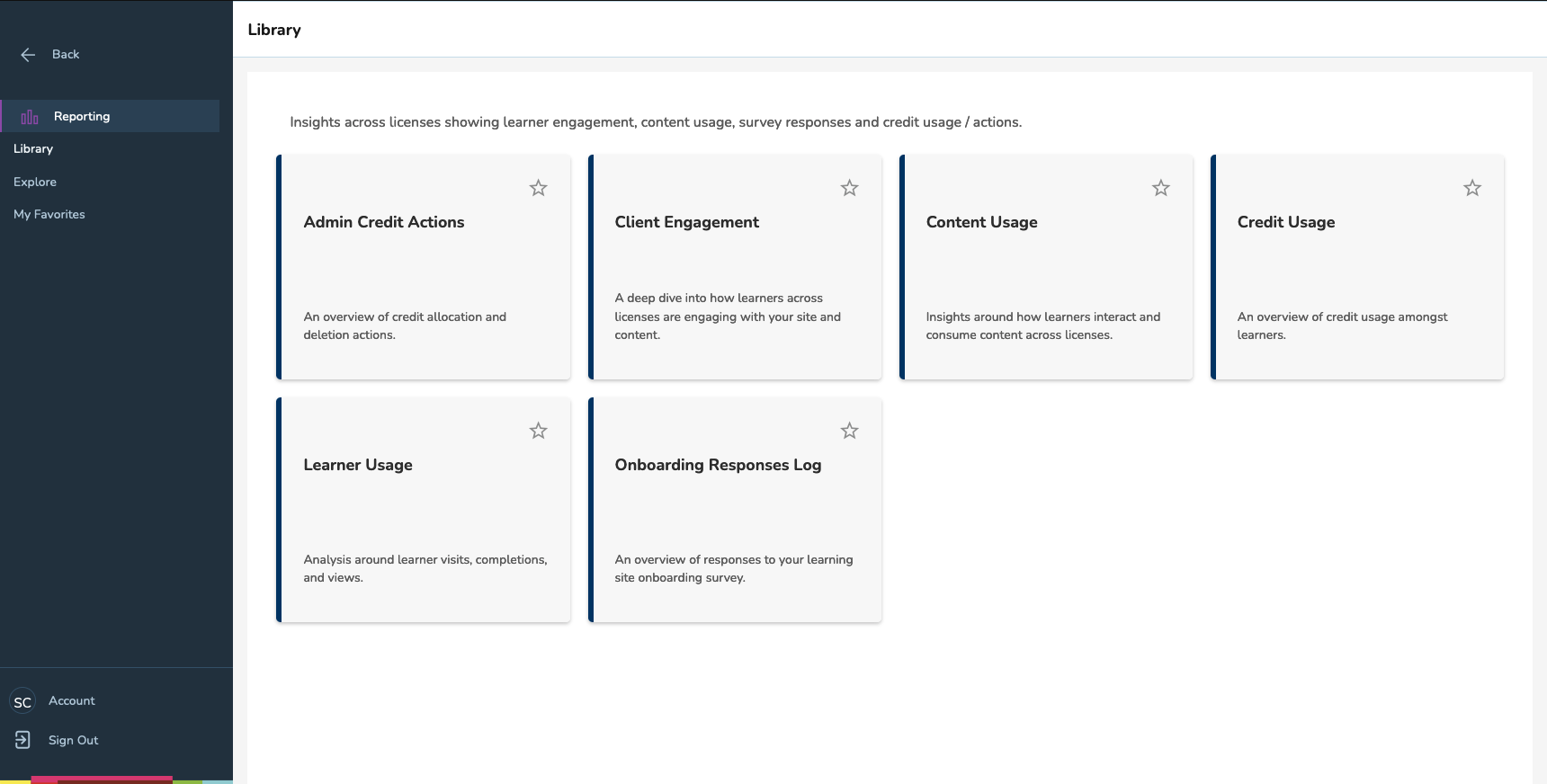 03
Explore Reports
Panorama > Actions > Edit > Reporting > Explore
Users will have access to the Explore tab to create their own looks and dashboards.
When users access the Explores, they will only have access to the client and sublicenses they are currently provisioned.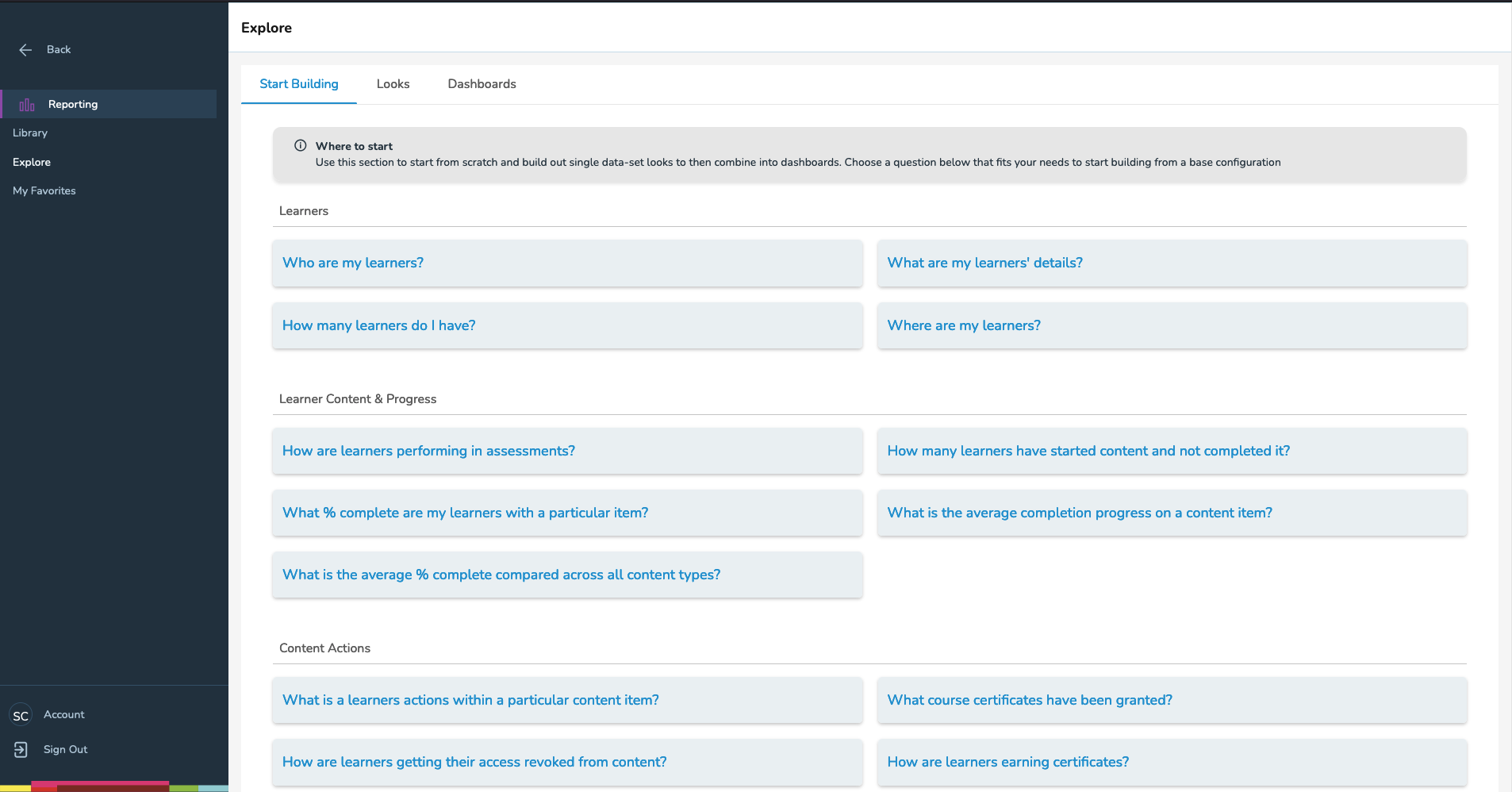 Note
All Explore questions and base configurations are available to Panorama Reporting Hub except for three questions below:
Disabled for Security reasons - How many panorama learners do I have in each client?
Coming Soon - How are my learners enrolling in content?
Coming Soon - How are my learners enrolling in learning paths?
04
Other Features
Users will be able to favorite both default and custom dashboards.
They will also have the ability to create new folders for both Favorites and Custom Reports.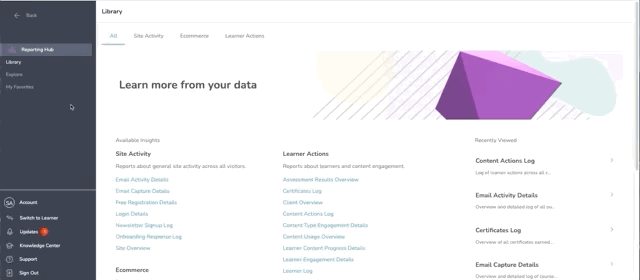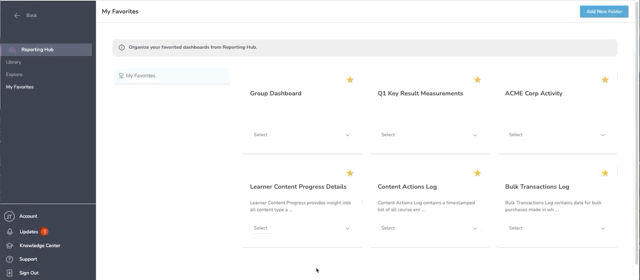 Note
Sending & Scheduling is not currently available in Panorama Reporting Hub, but is on our roadmap to release soon.
Report Pinning is not available in Panorama Reporting Hub for client roles or site admin.
Data & Sublicense Filtering
01
Data Notes
Panorama Reporting Data will now be based on the learner's currently allocated sublicenses, NOT the sublicense the learner was a part of at the time of the action.
Example: The actions will follow a learner rather than be stamped to a particular sublicense. So if a learner completes Course A while in Sublicense A, but is then moved to Sublicense B, all actions for Course A will now be displayed for Sublicense B.
02
Sublicense Filtering
As a client admin or a role with 'Viewing Client Reports' and access to multiple sublicenses, the following logic will be applied to data for users existing across multiple sublicenses:
If a sublicense is selected in the dropdown menu, the report will return all relevant data for users who are a part of that sublicense.
If a sublicense is not selected, the report will return data across all users in the given client (for whichever sublicenses the viewer is provisioned).
If a sublicense is expired, the learner will still show in that sublicense.
If a learner is removed forcibly (i.e. removed access from sublicense), the learner will NOT show in the sublicense.
For learners who move clients, the data returned in reports will reflect the current client they are in.
Frequently Asked Questions (FAQs)
| Question | Answer |
| --- | --- |
| Does the Panorama Reporting Hub replace the previous experience? | Yes! If enabled, the Panorama Reporting Hub will replace the previous experience with Library, Explore, and Favorite menu options. |
| Where can I find the reports available in Panorama today? | The Panorama Reporting Hub Library will have all existing panorama reports. |
| Have any new out-of-the-box Library reports been added? | No new Library reports have been added, but with the ability to Favorite custom dashboards, you can begin to build a Library of custom tiles and dashboards. |
| Is Sending & Scheduling available in Panorama Reporting Hub? | Sending and Scheduling is not available in this first version of Panorama Reporting Hub, but it is already on the roadmap to add this functionality in the near future. |
| Who can see the Panorama Reporting Hub? | Site Admin, Client Admin, Client Managers, and custom roles with 'Viewing Client Reports' permission enabled. |
| Are there limits around what data users can view in Explores in Panorama Reporting Hub? | When users access the Explores, they will only have access to the client and sublicenses they have been provisioned. |
| Can I give users 'view only' permissions for Panorama Reporting Hub? | Not at this time. If the user has the' Viewing Client Reports' permission on, they will be able to view Library reports and also use the Explore function. |
| Who do I contact if I have an issue or feedback on the new Panorama Reporting Hub? | Contact Support for help with using reports. For feedback, there is a link at the bottom of the EXPLORE page in Panorama Reporting Hub. Site Admin can also submit feedback via the feedback widget in the platform (triggered by clicking Feedback in the left navigation). |