Last release of the year! We're so excited to share these updates with you.
CONTENT
Content Authoring and Management Redesign
We have refreshed the Content Management interface to provide a more favorable experience! Check out the video below to get introduced to the updates. Additional resources are linked right below the video or read on to learn a bit about what's changed:
Other Resources:
The Content Management redesign features enhancements in the following areas:
Main Interface

More convenient quick actions are available from the content list: Copy, Create Session, and Archive
Content drawer makes navigation easier between various lists of content (e.g. active and archived)
Session Management UI

Courses, ILTs, and VILTs with multiple sessions have a new session management UI--accessible from the content drawer
View release status and meeting dates for each session for more scalable session management
Catalog Settings modal groups settings that are shared across all sessions in the course
Content Filtering

Filters moved from the sidebar to the header for a cleaner UI and easy access
Filter Menu

Customize which filter categories you want to see at any time

Search for filters to save time scrolling through a long list
Panorama

Added new default filters for "Type" and "Tag"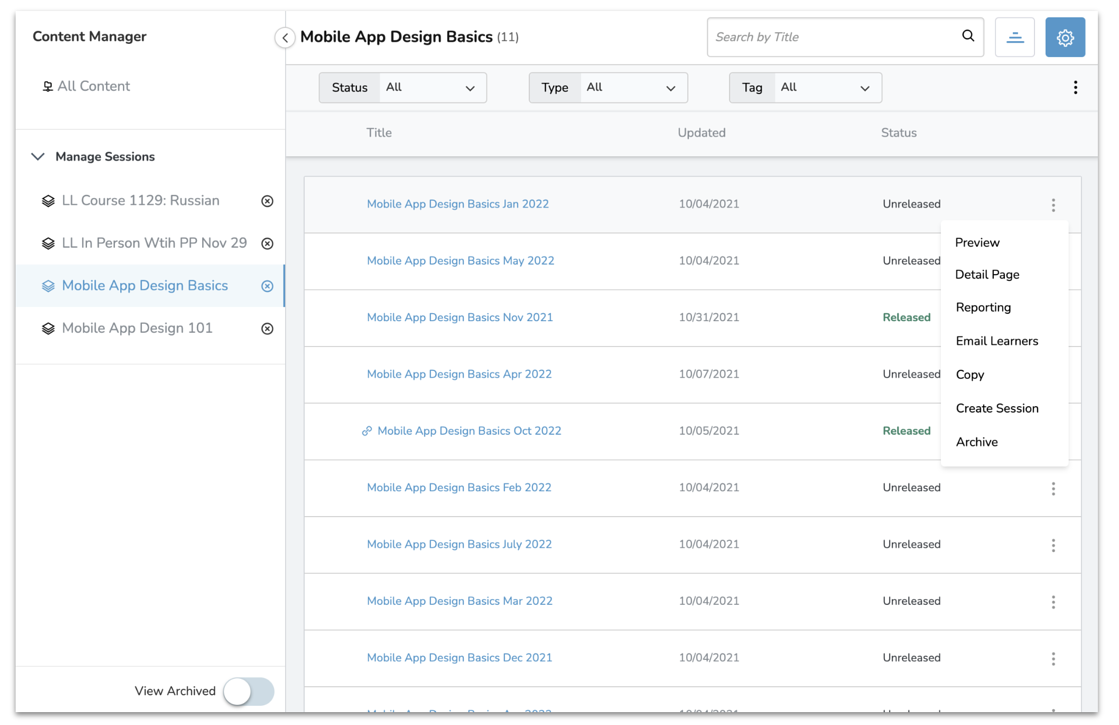 In addition to the Content Management interface redesign, we've streamlined our authoring workflow end-to-end into clear steps including all content types across the site and Panorama authoring. Additional details below:
Updates are focused on settings configuration so the course outline and page editing remain the same
All existing settings, functionality, and permissions have been maintained but may be found in a new location
For client content creators in panorama:

Improved user flow for provisioning newly created content to sublicenses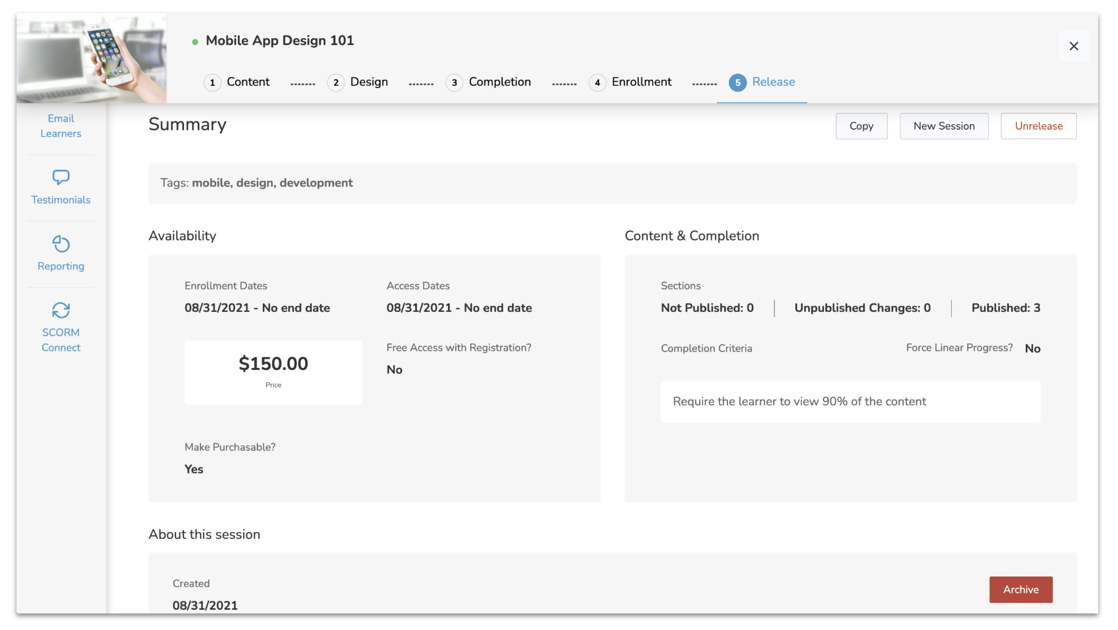 Tip
Switch back to legacy UI
The new Authoring and Content Management UIs will be enabled by default. Users can still switch back to the legacy view by clicking a 'Disable Preview' button in the UI.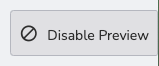 PANORAMA
Panorama Learning Path Reporting
Great news! Learning Path Reporting is now available at the content level inside Panorama and includes the following reports:
Overview Report
Learners Report
Competencies Report
To access these reports, go to the desired Panorama. From the Panorama admin interface, click Content > Click Actions Menu next to a Learning Path (three dot menu to on the right side of the content item's row) > Click Reporting.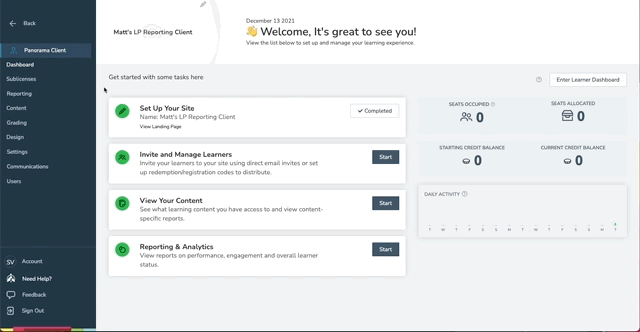 REPORTING
New Content Catalog Reporting Explore
There are two new options in the Explore section of the Reporting Hub that offer insight into your content catalog and custom fields data. Check them out under Reporting Hub > Explore > Content Catalog to look at certain segments of your content or leverage the info you are storing in custom fields.

TECHNICAL UPDATE
jQuery Library Update (ACTION REQUIRED)
We have upgraded our jQuery library from 2.1.0 to 3.6.0.
Warning
If any custom scripts you have added rely on older versions of jQuery they should be updated immediately to ensure compatibility with version 3.6.0.