We're so excited it's the new year and can't wait for our favorite people to interact with new releases!
Here's what's included in the first release of the year, 2022.1:
Preview Mode in Page/Layout Builder
Panorama Breakdown in Platform Usage Report
Third Party Certificate Fields in Looker
Cookie Policy Update
Salesforce Managed Package - Sync Custom Fields Update
DESIGN
Preview Mode in Page/Layout Builder
A new, convenient way to preview the layout you're building without leaving the page. Before saving your changes in a widget and therefore publishing updates to learners, preview what they will look like!
The new button will appear in any page builder across the site. To check it out go to Design > Layouts > Homepage > Actions > Edit. Click View Preview Mode in the top right corner.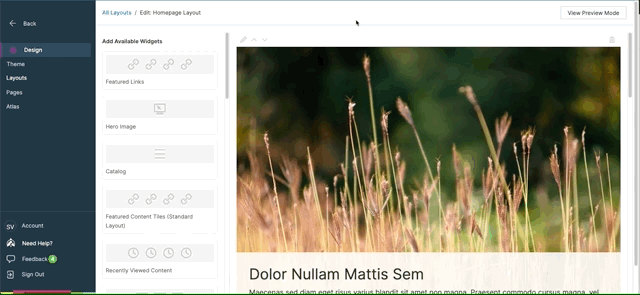 REPORTING
Panorama Breakdown in Platform Usage Report
We've added another level of detail on the Usage Metrics report for Panoramas. The new graph shows the number of active users in each panorama in the past 30 days or 365 days (depending on your contract terms).
To view your Usage Metrics report, go to Account > Usage Metrics tab.
Note
The Usage Metrics report is only available to Site Administrators as it applies directly to your contract.
REPORTING
Third Party Certificate Fields in Looker
We've released a new Looker Explore allowing users to view metrics around their learners' uploaded third party certificates. If the Allow learners to upload third-party certificates setting is enabled, and a certificate/transcript field is required to be completed for the third party certificate, this new report will display learners' responses.
Go to Reporting Hub > Explore > What External Certificates are being uploaded?.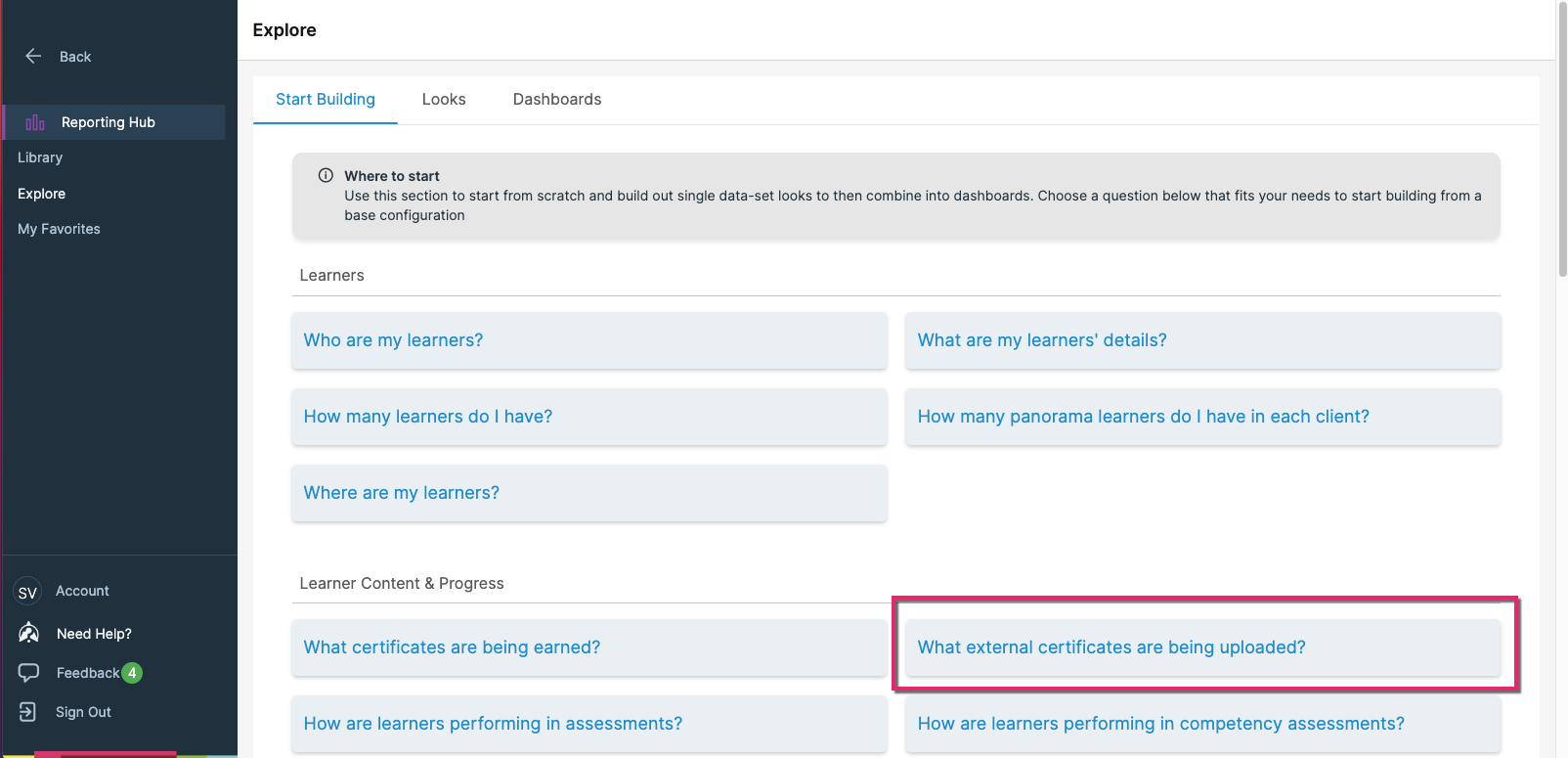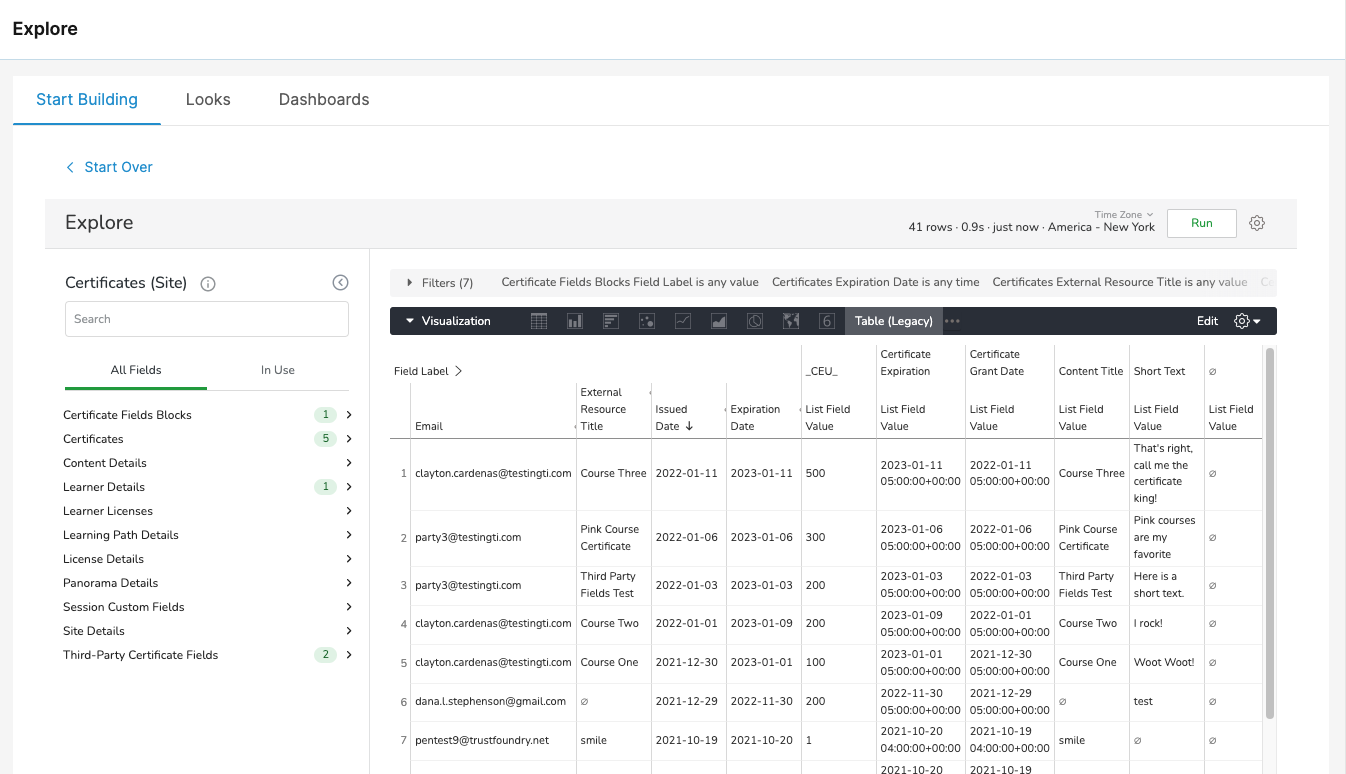 SECURITY
Cookie Policy Update
If you've enabled the cookie policy banner and use the setting Disable Non-Essential Cookies Automatically Dropping?, this update applies to you. We've replaced the option to close out of the banner - from a small "x" in the corner to a Decline button. Learners who use the Decline button will not be pinged again until the expiry date.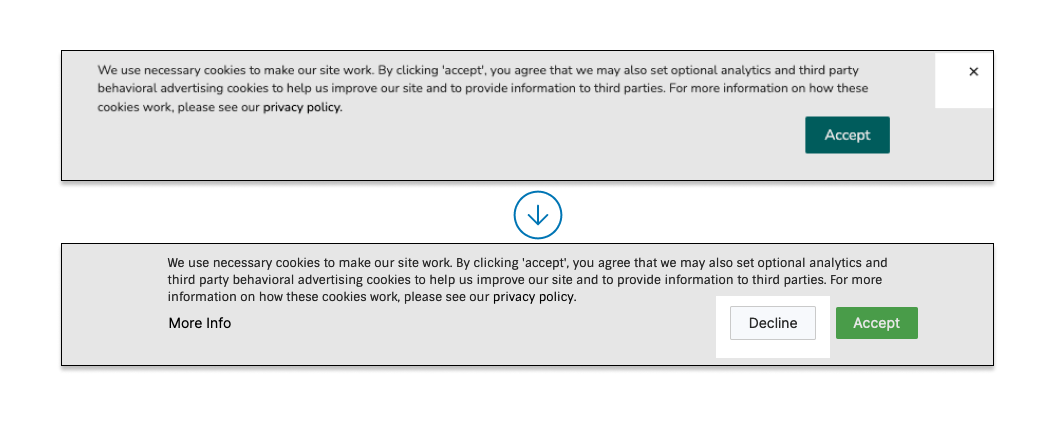 INTEGRATIONS
Salesforce Managed Package - Sync Custom Fields Update
We have enhanced our Salesforce integration by sending over the content and learning path custom fields. These custom fields are typically used to store unique program and business information and can now be passed to Salesforce.
The following additional information will be passed to Salesforce when a sync occurs:
Custom Fields on Courses
Custom Fields on Learning Paths
Content within a Milestone (labeled in Salesforce as Related Content) on Learning Paths
Note
No package upgrade is needed as long as you are on Spring 2020 or newer.
CONTENT
Heads Up: Content Authoring Legacy UI will be Removed
In the major feature release currently scheduled for the end of April (2022.4), the recently redesigned content management and authoring interfaces will become the default experience for all users, at the site and Panorama levels.
Warning
We will be sunsetting our legacy authoring interface, and the button to switch back to it will be removed from the UI. If you have any questions or concerns, please contact your CSM for more information.