Jump to

Content Folders
New Translation for Tax Statements
Clear Cart for External Ecommerce
Here's what's included in this release, 2022.6:
Content Folders
New Translation String for Statements about Tax
Clear Cart after External Ecommerce Purchases via SSO
Organize your content list in folders so that you can efficiently find what you need and work better together! You can use folders in all sorts of creative ways, but here's a list that will hopefully get those creative juices flowing:
Group content that populates a learning path
Group similar subjects or verticals
Group by release dates, months, or years
Group by content package type - paid or free
Group content by author or owner
Group content by stages of review - draft, needs review, approved, etc.
Creating a new folder: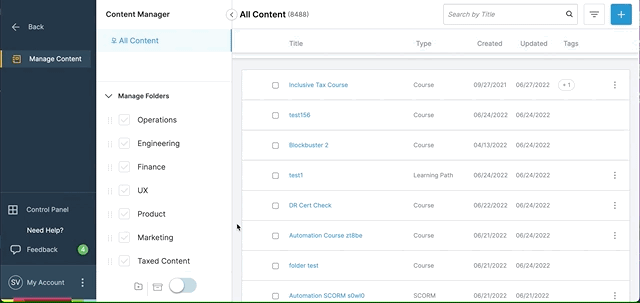 Moving a content item into a folder(s):
Here are some things to know about folders:
Folders are available in the manager interface only, meaning there are no learner facing consequences when you move content into folders.
Along the same lines, folders are not reportable - they're purely for organization on the content list.
Folders are shared among all managers that have access to the content list only at the site level. This feature is not available in panorama content lists at this time.
Folders must have unique names amongst themselves and also from your tags.
Currently, you can move one piece of content at a time to folders.
A piece of content can live in multiple folders.
Whole course groups can be added to folders, but not individual sessions.
Check out this support article to learn all about them!
TRANSLATIONS
New Translation String for Statements about Tax
We've added a new Ecommerce translation field that allows you to add a statement about
taxes (or any other custom message) anywhere a product price is displayed to learners within
Thought Industries.
The new tax-details-message field is the perfect way for you to achieve compliance with any Ecommerce or tax regulations that require clear and comprehensive information on the overall price of your services/products, e.g., "Tax will be calculated at checkout."
This field is blank by default, but if you add text, it will appear below the price on all pages where price is displayed but tax is not yet calculated.
To find this new string, go to Translations, then search for the tax-details-message field.
If filled in, the new tax-details-message translation field will display in four places to the learner:
In the catalog on the content item tile
On the content detail page
On the confirmation modal that pops up after you add the content to your cart
On the initial checkout cart screen, before the learner adds their address (after this point, the translation doesn't appear because actual tax can be calculated)
ECOMMERCE
Clear Cart after External Ecommerce Purchases via SSO
Do you use an external Ecommerce solution? You can now change your learner's Ecommerce flow so that their cart in Thought Industries is automatically cleared after they make a successful external purchase.
Simply add our new Boolean clear cart clearCart:true attribute to your SAML or OpenID SSO token.
Note
This is not available for JWT or CAS SSO setups.