Jump to

August 24th
August 16th
August 10th
August 9th
August 2nd
August 24th, 2022
🔥 New Features
CONTENT
Improved Learning Path Navigation
In response to customer feedback, we've improved learning path navigation so that learners can more easily return to their learning path page and revisit or move between various learning path content items.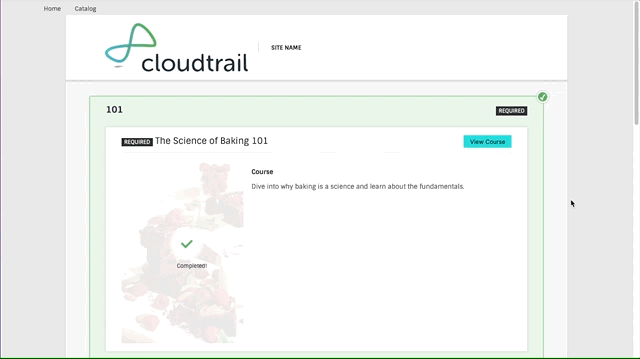 🔥 New Features
API
Expose numeric assignment grades via API
We've added a new API property to make it easier for you to export grades via API. The List Assignment Submissions API endpoint now returns numeric grades in addition to the existing grade and gradeFeedback assignment grade properties.
See our API documentation for more details.
🔥 New Features
DESIGN
Populate recommended content widget with slugs via JWT SSO
There are many ways to populate our recommended content widget with personalized content, and we've just added one more. By way of JWT SSO, you can now populate the recommended content widget with a custom list of content items that you've selected for each individual learner. This is a great option for programs that provide each learner with a highly customized, unique learning path or collection of content.
Bug Fixes
We released fixes for the following:
When a learner re-certifies in session the email they receive links to a past certificate.

When a disabled user attempts to login they receive the invalid password message "Invalid email or password." rather than "Your account has been disabled. Please contact your account administrator."

User Metrics report is not updating nightly.
August 16th, 2022
Bug Fixes
We released fixes for the following:
Content count at bottom of catalog widget (

"Showing 1-XX of XX items") is not translated into learner's selected language.

On surveys that allow learners to add their own choices, the "Your choice" and "Save" buttons are not translated into the learners selected language.
August 10th, 2022
🔥 New Features
SECURITY
OFAC Compliance Update
Thought Industries is committed to compliance with OFAC-mandated sanctions, and providing the proper security necessary for enabling our customers on the Thought Industries platform to remain in compliance with current OFAC regulations. Thought Industries has implemented a platform-wide solution that will effectively block users from all currently embargo'd countries and provide OFAC-compliant services to our customers. This solution was made available to most customers beginning in our product release on August 10.
To best assist our clients in addressing their compliance needs, specifically surrounding OFAC compliance requirements, Thought Industries has now modified our geolocation-based-IP-blocking functionality from a platform-wide implementation, to an OPT-IN FEATURE. You will now be able to opt-in to this geolocation-based-IP-blocking on your instance, as you deem necessary. If you have not opted-in to this functionality, and your company has not requested Geolocation Blocking to support OFAC compliance, your users and learner groups should now have access to your content and your instance, without receiving a "1020 error" message. Please notify Thought Industries immediately if any issues persist around this functionality, and we will continue to work with you to ensure proper functionality and OFAC compliance, based on your requirements. Thank you.
August 9th, 2022
Bug Fixes
We released fixes for the following:
Text box on a discussion page within a course hidden after entering 2 comments until page is refreshed

Learning path details page non responsive when viewed on a mobile device

Event Content Type: Creating a new session via primary session does not save the meeting in the new session
August 2nd, 2022
Bug Fixes
We released fixes for the following:
Bulk import system logs don't return data