There are so many benefits to having a sandbox instance, but one of the best use cases is for creating new content. You can build your content in your sandbox and then copy it over to production when it's ready to go live!
Use Case Information
Here are some reasons you might benefit from creating content in your sandbox first:
Low-Risk Collaboration
Give sandbox access to one-time contributors or subject matter experts so you can collaborate on content creation in a low risk environment. Using this method, you are able to protect the authoring rights and your overall site experience in your live site because your content contributors won't have access to it. Once it is ready to go live, simply copy it over to production and finish setting it up!
Test New or External Content Types
Check out that new SCORM file or mess around with detail page layouts knowing that it's all safely concealed in your sandbox environment.
Keep Production Tidy
Allowing your team and collaborators a safe space to try new things, co-author content, and create new designs encourages more innovation and keeps your production site as clean as possible - from organization to content management to reporting.
Try Out Authoring Features
Elements like Central Asset Manager (CAM), Snippets, or Existing Page Copying can make your life a lot easier when you are creating new content. Use your sandbox to explore these features and define your process so you can use them effectively in production.
Premium Feature
Sandboxes are a premium feature. Reach out to Thought Industries Tech Success & Support for more information.
Linking a Sandbox to Production
Before you can start copying content from one instance to another, the two instances have to be linked. You will need our help for this step, so reach out to us with the names of each instance when you're ready to link up!
Linking instances is allowed by Thought Industries Admin only.
Reach out to Thought Industries Tech Success & Support for assistance to enable this feature in your instance.
Copying Content across Instances
Once your sandbox and production instances are linked, you will see a new option when copying content to choose which instance you want to copy to. Copying can go either way, but below are the steps for how to copy from your sandbox to production.
Log in to your sandbox instance as a manager with access to content.
Go to Content > Manage Content.
Choose the content you'd like to copy and click on the Course Title to access it.
Go to the Release Step.
Click Copy.

Tip

By default, the new course title will get appended with the word "copy" at the end. You can edit the title at this step so it's what you want it to be in your production instance.

Choose the instance you'd like the course to copy into. In this case, choose your production instance.
Click Copy Course.
Go check out the course in your production instance.

Note

Be sure to check content settings and finish the set up, as most of these do not copy over between instances.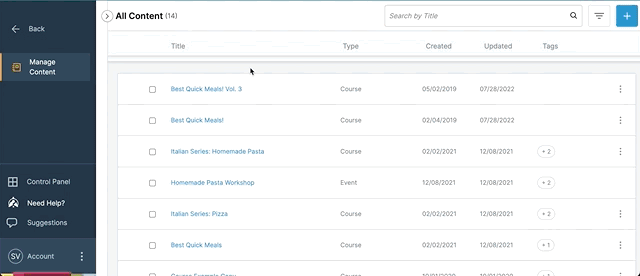 Note
Learning Paths, VILTs, SCORM, and xAPI content types are unavailable to copy across instances.
Which Settings or Assets Do Not Copy Over
Although copying a course between instances keeps the content in the outline and some general settings, some settings and fields do not carry over to the new course from the original. We always recommend going through the authoring steps to set up the new course before releasing to your learners.
Here are the fields that do not copy over to the new course when copying from one instance to another:
Tags
Custom Fields
Related Content
SKU
Custom Appearance
Custom CSS
Credit Requirements
Force Linear Progress
Certifications
Note
This list is referring to copying a course from your sandbox instance to your production instance. If you are copying courses within the same instance, this list may be different. The course outline and content will always copy over, but we recommend checking all other course settings to make sure the new course is set up properly.
If you're interested in copying courses within the same instance, see this help article.
Tip
If you're interested in copying an existing page from one lesson to another, see our Copying an Existing Page article.