Favorite reports to stay organized and get quick access to the reports that you'll visit most often!
Where do I find this?
Reporting Hub
How do I do this?
You can add Library reports or Dashboards from Explore to your favorites. Your favorites are just for you - only you can see which reports you've starred. You can also organize your favorites using folders.
To favorite a report from the Library:
Go to Reporting Hub > Library and navigate to a report you'd like to add to your favorites.
In the top right of the interface, you'll see the word Favorite with a star icon next to it.
Click the star icon and that's it!
Another option is to click the star icon on any report tile in the Library tabs.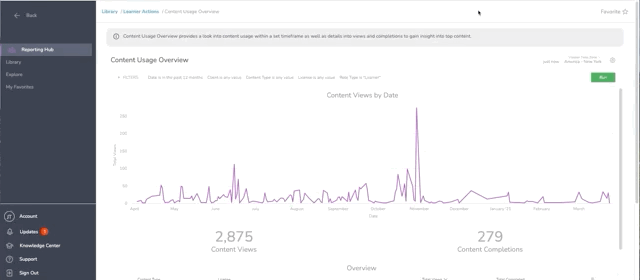 To favorite a Dashboard from Explore:
Go to Reporting Hub > Explore > Dashboards tab.
From here, you'll see all of your Dashboards available to you.
Click the star icon in the top right corner of a Dashboard tile to add it to your Favorites.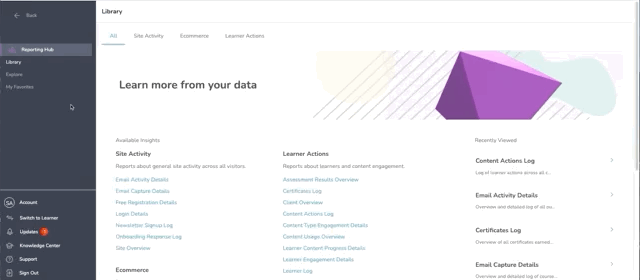 To view and edit your Favorites:
To view your Favorites, go to Reporting Hub > My Favorites, or simply click My Favorites in the left navigation menu anytime you're in Reporting Hub.
To remove an item from your Favorites, click the star icon on the tile for that report.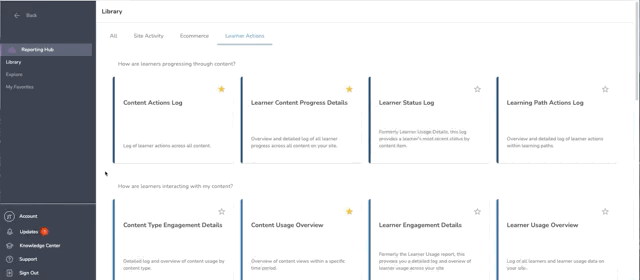 To organize your Favorites:
You can manage your Favorites using folders. This folder system is unique to your favorites.
To add a Folder, click on the Add New Folder button in the top right OR click on Add New Folder from a tile dropdown.
Give the folder a name and click Save.
You can filter by folders by clicking the check boxes on the left. Uncheck a box to remove the filter.
You can also edit or delete folders by filtering on the folder, then hovering over the folders name.