There are various pricing and availability options to consider for each piece of content that will be made available for purchase.
Where do I find this?
Content > Manage Content > Click the Content Title > Enrollment step
How do I do this?
From your homepage, select Content, then Manage Content.
Click the Content Title for the course you want to alter and select the Enrollment step.
Select Ecommerce from the left sidebar. From here, you will need to populate the relevant fields under Pricing.

Price:
If selling your content, enter the appropriate amount. This is the amount your learners will be charged.
Suggested Retail Price:
If selling your content, you can optionally enter a suggested retail price for display purposes only.
Instructor Messaging Additional Price:
If you enable Instructor Messaging for a course, you will also have the option to add an additional price for this service.
Taxable?:
If No (default setting), taxes will not be charged. If Yes, you will be prompted to select a fulfillment center that will be used to calculate sales tax, as well as the appropriate tax category. Note that you must first integrate with Avalara and complete the initial setup if you want to charge for tax (see our Integrating With Avalara for Taxes & Shipping article).

If you want to limit access, click on Advanced at the bottom of the page and toggle "Limit Days of Access After Purchasing?" to "Yes." Next, you will be prompted to add the number of days.
Click Save.
The default for all new courses is open enrollment (i.e., no start/end dates defined). This allows users to start a course at any time, with unlimited access to course content.
If you wish to set course start/end dates, go to the Enrollment step in the content and you'll land on the Access page.

Enter your Enrollment Dates (i.e., the date at which a learner can begin to enroll).
Enter your Course Dates (i.e., the session start date). Be sure to set the dates in the future if you want to be sure users will not gain access even if they register early.

You can also limit the number of enrollments by toggling "Limit Enrollments?" to"Yes." Next, you will be prompted to enter a maximum number of enrollments for the course.

This functionality is meant to be used for content that will be sold a la carte. It will not limit any enrollments for course collections or subscriptions.
Redemption codes created will also occupy seats. For example, if a course has an enrollment limit of 5, and 4 redemption codes are generated, only 1 seat is left for enrollment.
Once the enrollment limit is hit, the course switches to waitlist mode where learners can enter their address to be notified if/when space opens up.

Click Save.
What else do I need to know?
It is also possible to allow free access with registration. To enable free access, select the Access tab from the left menu and toggle "Free Access with Registration?" to "Yes." See our Offering Free Content on Your Site article for more information.
If you would like to put a piece of content into waitlist mode, use the specific start/end dates option and enter the enrollment dates in the future. This will keep the cart closed, but in waitlist mode, allowing you to collect emails from interested users.
What does this look like?
Admin View - Set Pricing: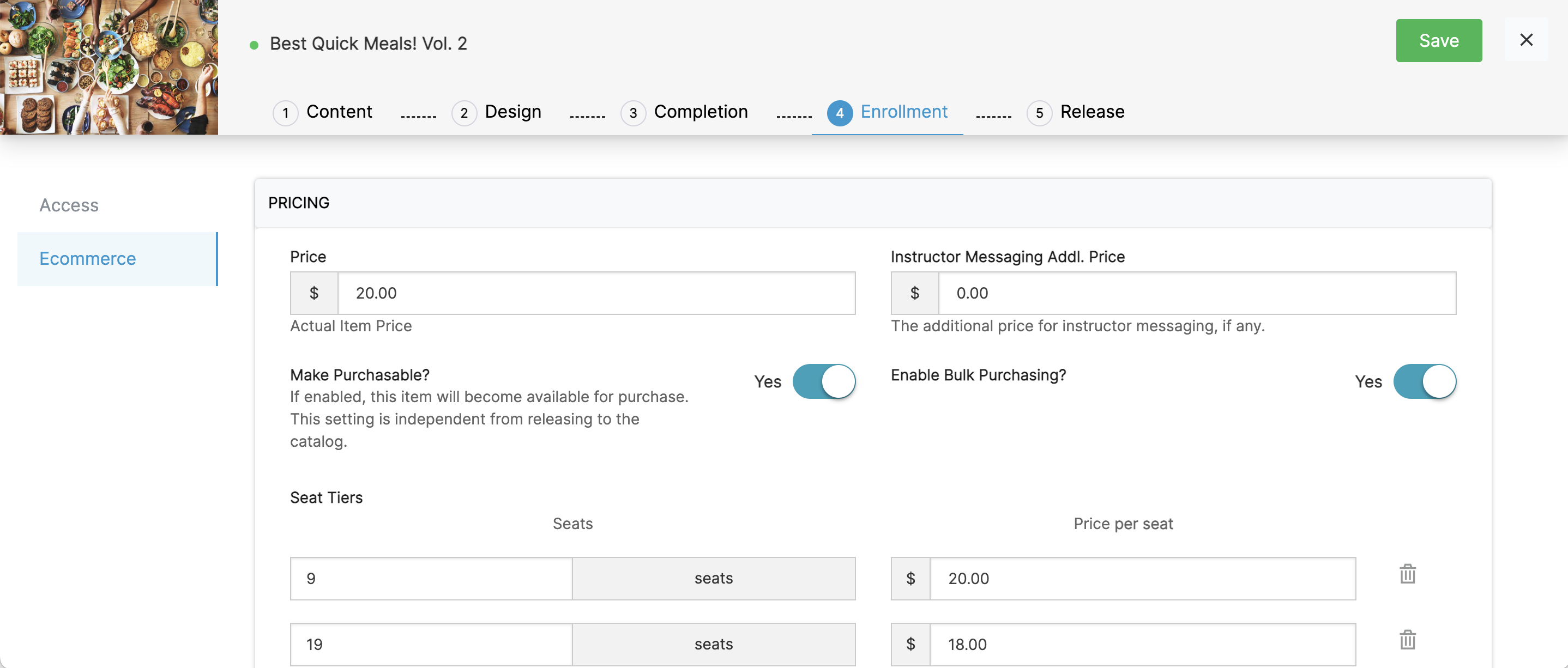 Admin View - Enrollment Settings: