✧ New Release Day, who dis? ✧ Friendly reminder that Release Days have been shifted to Tuesdays so that you have more of the week to explore new features!
What did we release on this awesome Tuesday, you ask? Check it out below!
USER MANAGEMENT
New Manager & Roles List UI and Enhanced Search
We've refreshed the manager list and added a search across manager roles. Yes, you read that right. Find managers in any role by name or email using the new search function!
You can also seamlessly navigate between permissions, password & timeout requirements, and a list of users for each manager role.
Search for a Manager: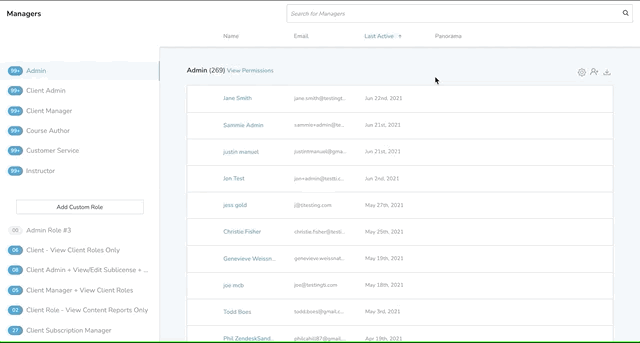 Access permissions, requirements, and add a user: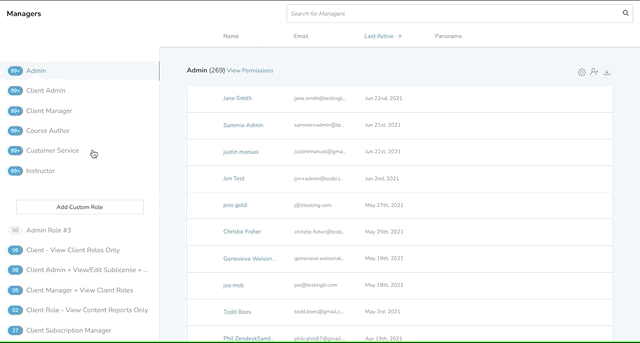 Tip
If you find that your search comes up with no results, check to see if the user's account is disabled by clicking on "View Disabled" for any manager role and execute the search again.
REPORTING
New Learning Path Reports
See how your learning path metrics are shaping up in two new reports! We've added Overview and Learners to content level learning path reports.
Navigate to Content > Actions > Report for any Learning Path to check out the new data.
Overview Report: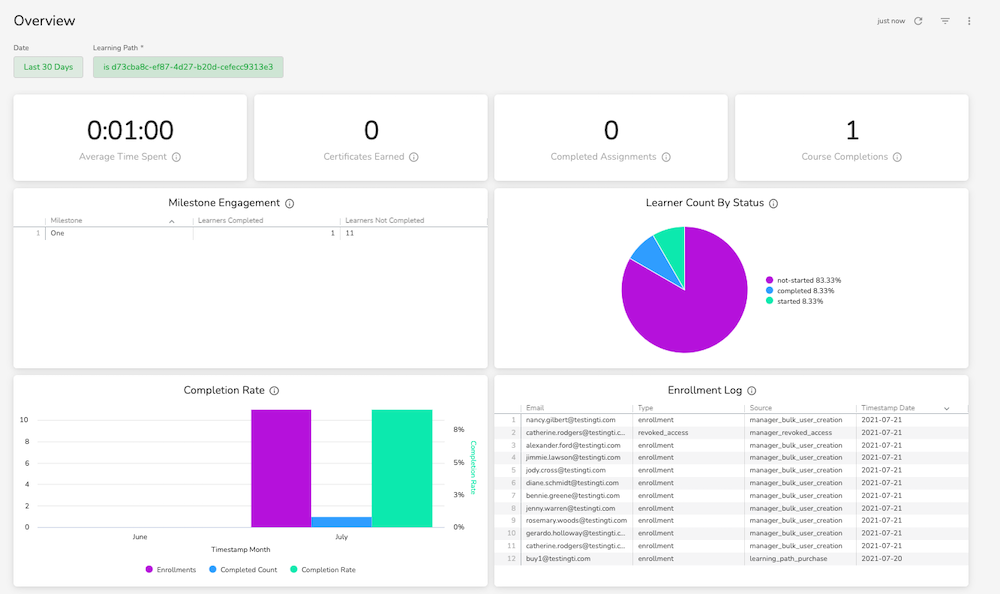 Learners Report: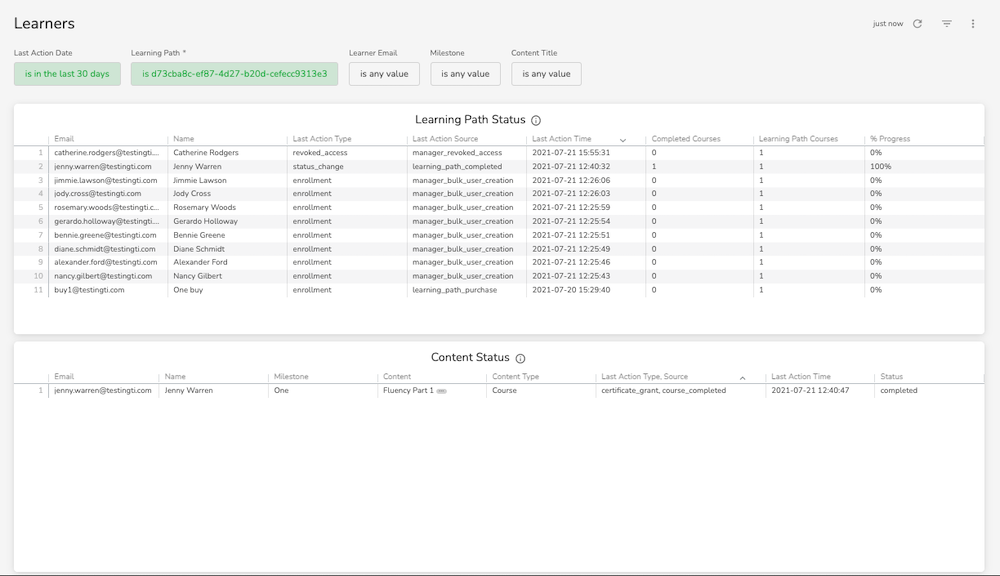 01
Pagination Component Update
With this update, managers and learners can now easily navigate through areas of the platform where pagination applies. For managers, these are areas like the Content List, User Lists, Panorama Lists, etc. For Learners, this applies to areas like the Catalog and Discussions.
Learner Areas Affected:
Catalog
Galleries
Discussion
Course Search Results (must have 'Course Content Search' flag enabled)
User Purchase List in their account

02
Bulk Import CSV Remove Option
Added a trash icon to allow users to easily remove a CSV after uploading in the Bulk Import process.

PANORAMA
Purchasable Content by Tags
Set content as purchasable inside Panorama quicker than ever by utilizing the new set by tag feature available under Panorama > Actions > Edit > Settings > Access.

Check out our article on Purchasable Content in Panorama for more information about this feature.
PANORAMA
Custom Email Settings Toggle
We've added a toggle to for Custom Email Settings in primary Panorama settings to make managing the overall brand more customizable. You can now find a separate toggle, outside of panorama branding and design, for custom email settings within the panorama.
Navigate to Panorama > Actions > Edit > Settings > Primary to enable or disable this setting.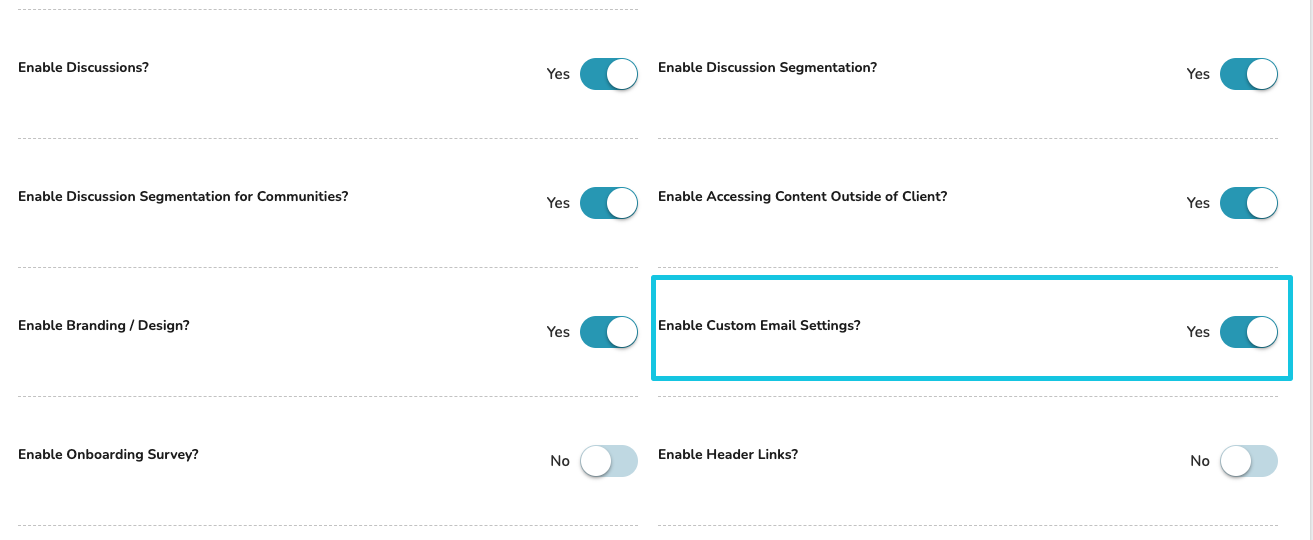 If the Custom Email Settings toggle is enabled, you will still find the appropriate email fields at this path: Panorama > Actions > Edit > Design.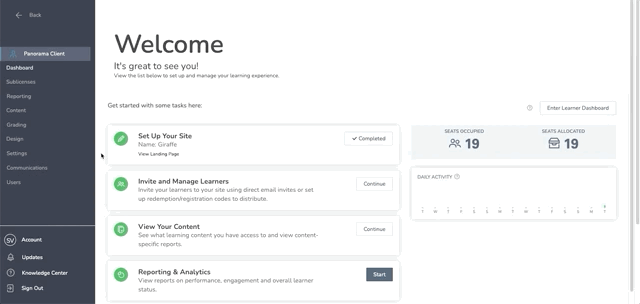 Note
If you have values in the Custom Email Settings fields as of this release, the Custom Email Settings toggle will be automatically enabled in your Panorama Clients.
CUSTOMER EDUCATION
Academy URL Update
You'll notice we've changed our web address to reflect the new Academy name. Rest assured that your experience won't be affected! If you have any issues, please reach out to Tech Success and Support.