Use your catalog to cleanly organize and thoughtfully display content for your learners so they can easily locate and access content.
Each site has a public catalog that you can include as part of your learner experience. By default, there is also a catalog widget that displays on the learner dashboard.
Thought Industries offers many settings and options that will help you configure your catalog display to control how learners view and interact with the content catalog. Catalog settings include display type, sort order, filters, and ribbons.
Manage Catalog Display Settings
From your homepage, select Settings > Content > Organization & Display.
In the Catalog section, review and apply the settings that are relevant to your catalog setup.

Default Display Type and Options: Choose one of the three options for displaying your content (grid, list, or calendar).
Enabled Display Options: You can also give learners the ability to choose their preferred display type in the field, which allows learners to view content in a list view, grid view, or calendar view.
Default Sort Order Options: Choose from one of five options to sort your content (last updated, most recent, title, publish date, start date, or relevance).

Last updated:

Sort content items by the date they were last updated and published

Most recent:

Sort items by when they were created

Title:

Sort content alphabetically by content title

Publish date:

Sort content by the date it was published

Start date:

Sort content by its access start date

Relevance:

Sort by the word a learner uses in a keyword search. We recommend always having this sort order enabled. For example, if a learner searches for "bananas", if the catalog is sorted alphabetically, it will sort the results alphabetically instead of by relevance (e.g. where "bananas" is included in the content title).

Enabled Sort Options: You can give learners the ability to choose their preferred sort order in the catalog, which includes sorting content by last updated, most recent, title, publish date, start date, or relevance.
Enable Filter by Content Type?: To allow learners to filter by content type, enable this toggle. When enabled, the catalog search bar will automatically include a "filter by" option where learners can select a content type and only view applicable results.
Display Content Start Date?: If you have content that has more than one session and would like to display start dates on the course detail page, enable this toggle.
Only display accessible content?: In the catalog, hide content that a learner does not have access to by enabling this toggle.

Note

It is recommended to only use this setting when selling content directly to learners.

It is not recommended to use this setting on any panorama pages as panorama already has logic for this behavior that may conflict if enabled.

Display Content Authors: Enable if you want to display the content's author in the catalog. Note that this will not display unless an author has been added to the the content item at Content > Content Item > Design > Edit Catalog Settings > Advanced Settings > Display Authors.
Remove past events from the calendar: To remove a session from the calendar view once the last meeting has ended, enable this toggle.
Display description on calendar: To show the content description and image on the calendar view, enable this toggle.

Click Show Advanced within the Catalog section to view more options.

Skip the course detail page when the learner has access?: If learners already have access to content and do not need to buy or register for content, toggle this setting so learners can bypass the detail page.
Catalog Visibility Emails: This field serves to notify recipient when new content is published in the catalog. You can add more than one recipient to this list by adding a comma between email addresses.
Primary Subscription: Select a subscription so its subscription detail page shows instead of any course detail page.
Tip
The catalog search feature includes course title, course description, meta title, meta description, custom field, author, and source.
Labeling Content by Creating and Boosting Ribbons
A ribbon is a colored label that displays on a piece of content's catalog image. You can create a number of ribbons to label your content, as well as boost content to the top of your catalog by using a boost ribbon.
Creating a Ribbon
On the Organization & Display page, go to the Ribbons section.
Click Add Ribbon.
Boost a ribbon to the top of the catalog by going to the section, clicking Boost Ribbon, and selecting a ribbon from the droplist of existing ribbons.
Adding a ribbon to a content item
From your homepage, click Content, then Manage Content.
Go to the Design step.
Click Edit Catalog Settings and you'll land on the Catalog tab. Locate the Ribbon dropdrown.
Select the appropriate ribbon.
Click Save.
Learners see ribbons displayed on the top right of a catalog image.
Tip
Ribbons cannot be deleted, so create them with care.
Learners can choose the catalog display type, based on how you configure your catalog settings:
List View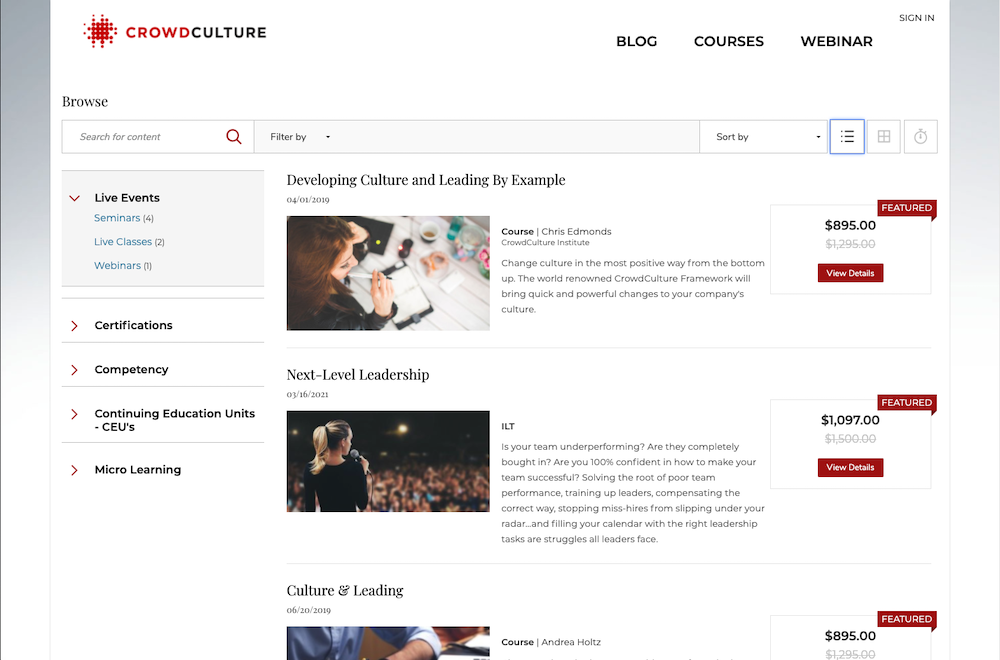 Grid View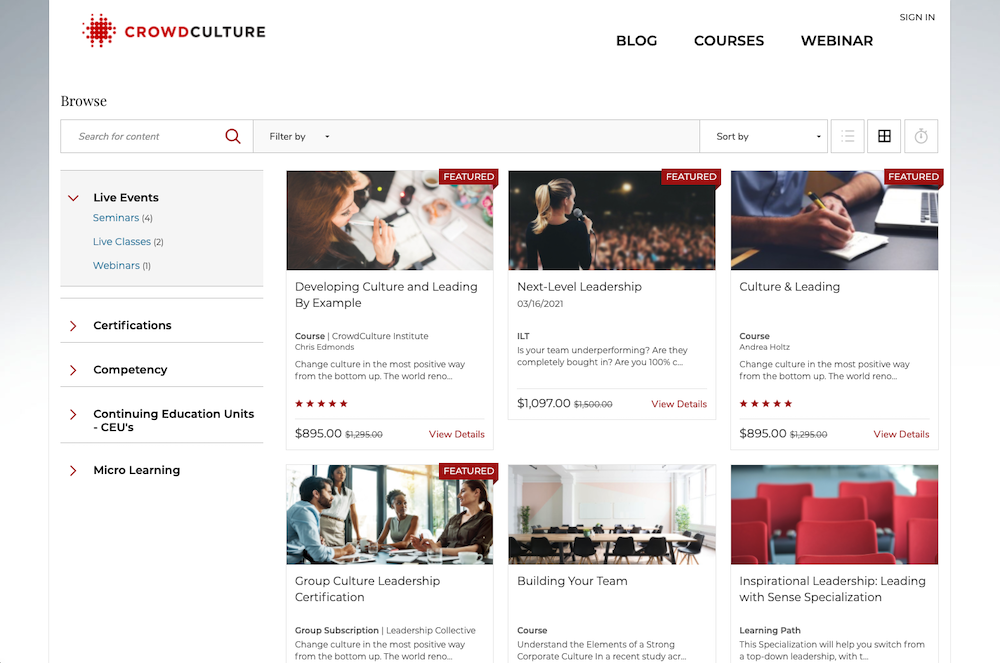 Calendar View
Sort By View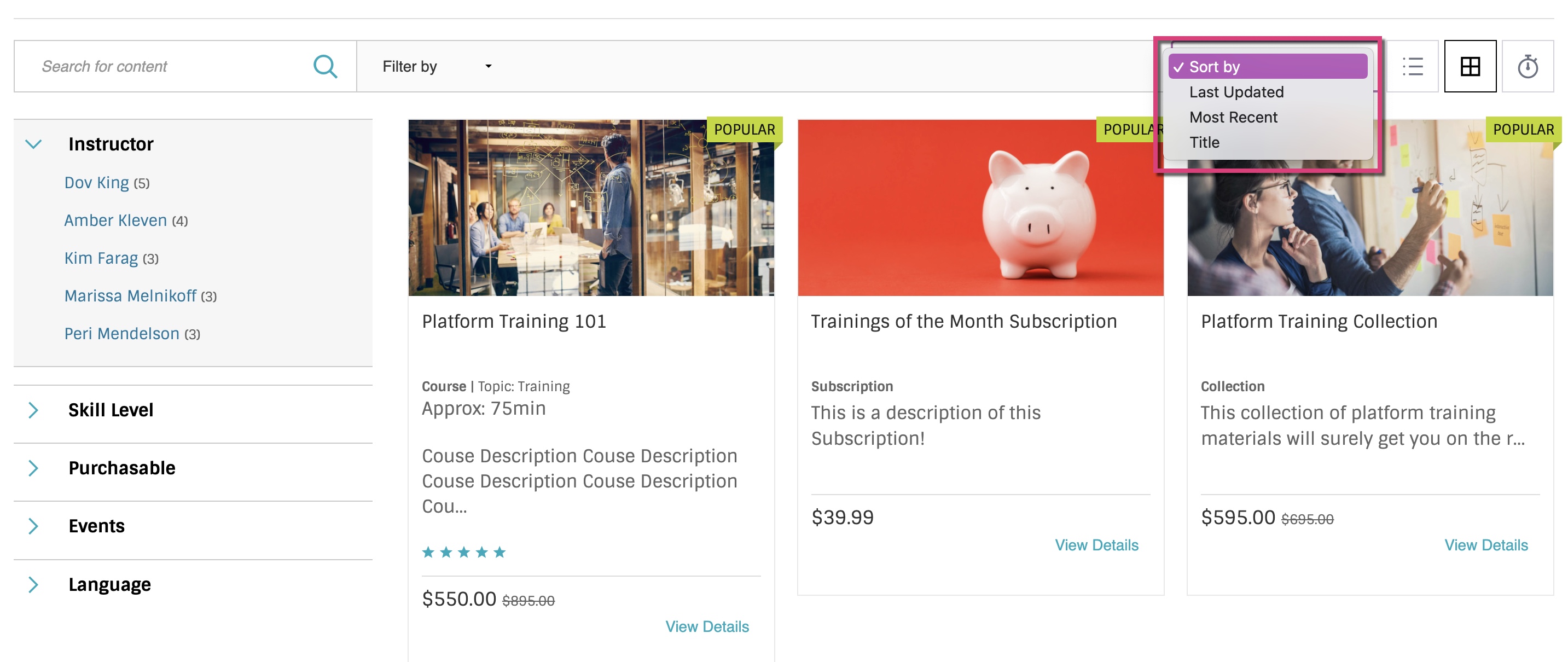 Filter by Content Type View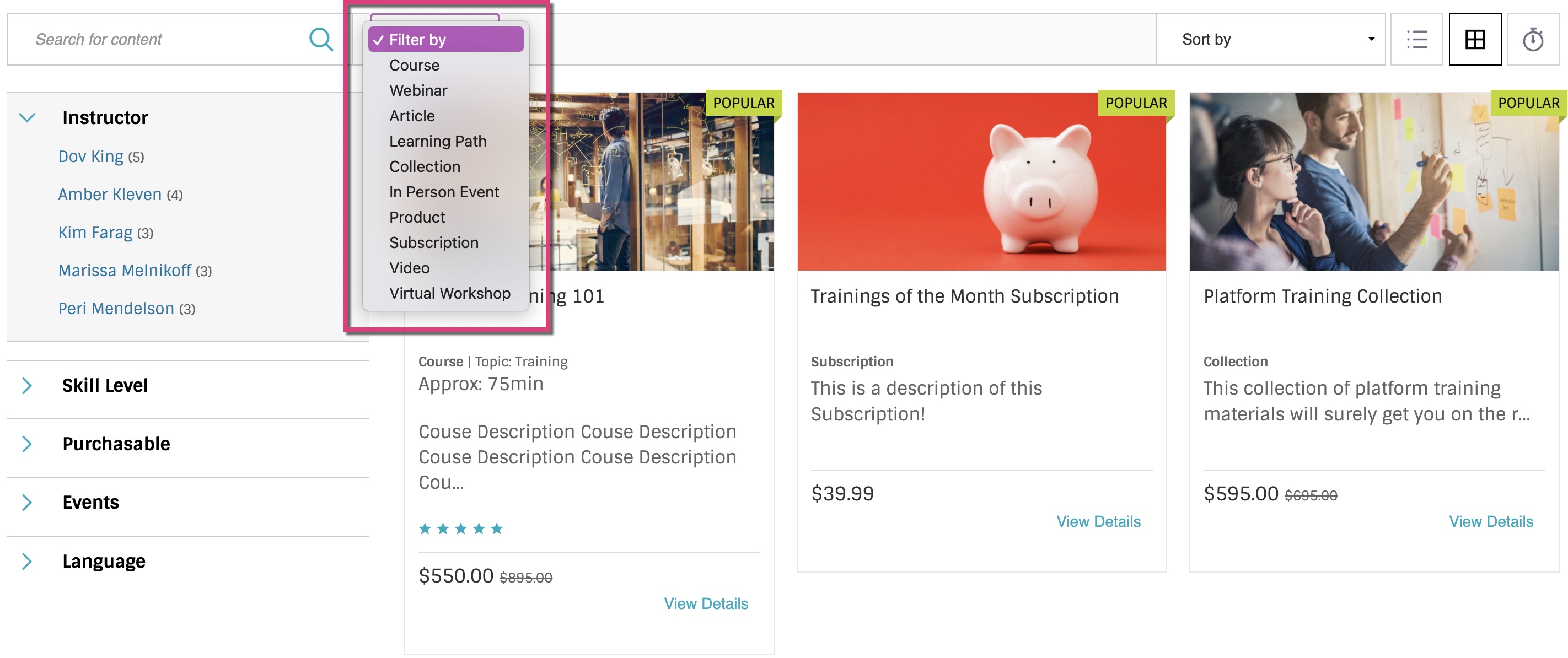 Display Content Start Date View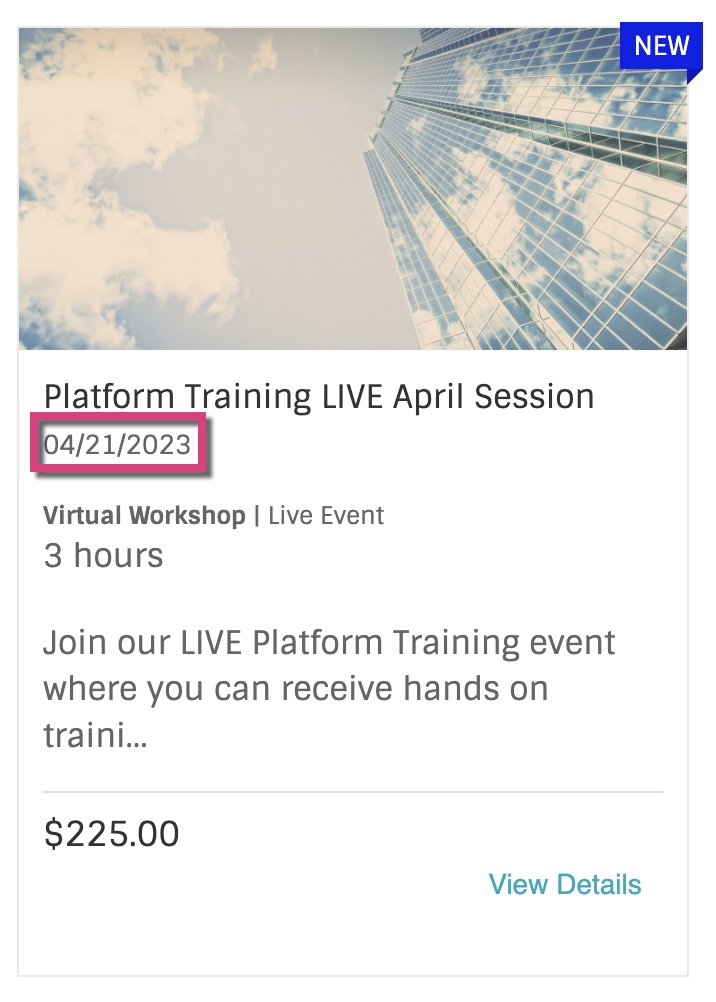 Display Content Author View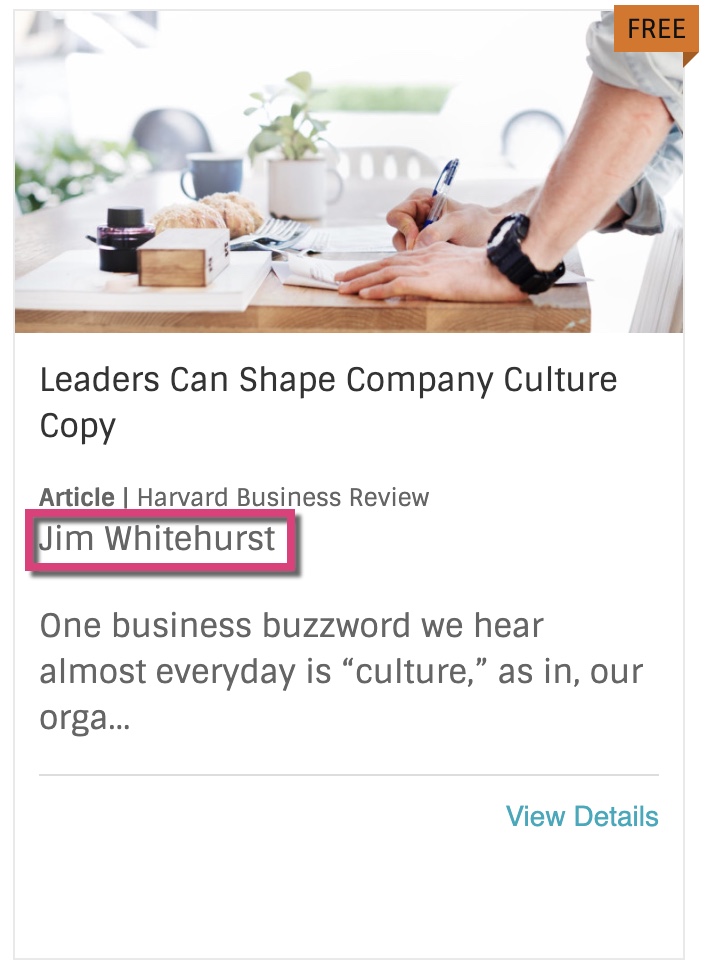 Display Descriptions on Calendar View