Use Case Information
There are five default roles for your learning site, including Admin, Course Author, Customer Service, Instructor, and Learner. Additionally, there are two default roles for Panorama (client) accounts (Client Admin and Client Manager).
You can view the appropriate permissions for each default role, as well as invite anyone from your organization, to any of the default roles. If any of the default roles do not fit your specific needs, you can create a new custom role with customized permissions.
If you have a use case for a dual role, which combines a manager and a learner into one role, see our article on dual roles for guidance, keeping in mind that an email address can be linked to only one account.
For information on inviting a new learner, see the Inviting a New Learner to Your Site article.
From your homepage, select Users.
From the left menu, select Managers.
Next, locate the default role that you want to assign to your user, and click on that role (e.g. Course Author).
Click on the Gear icon in the top right of the screen, then click Add User.

Enter the user's first name, last name, and email address. (The user will receive an email invitation to the learning site, so be sure to enter a valid email address.)

If applicable, specify what content the user should have access to.
If you would like to send a customized message in the user's email invitation, complete the Invite Message field.
Click Invite.
Example of User Invitation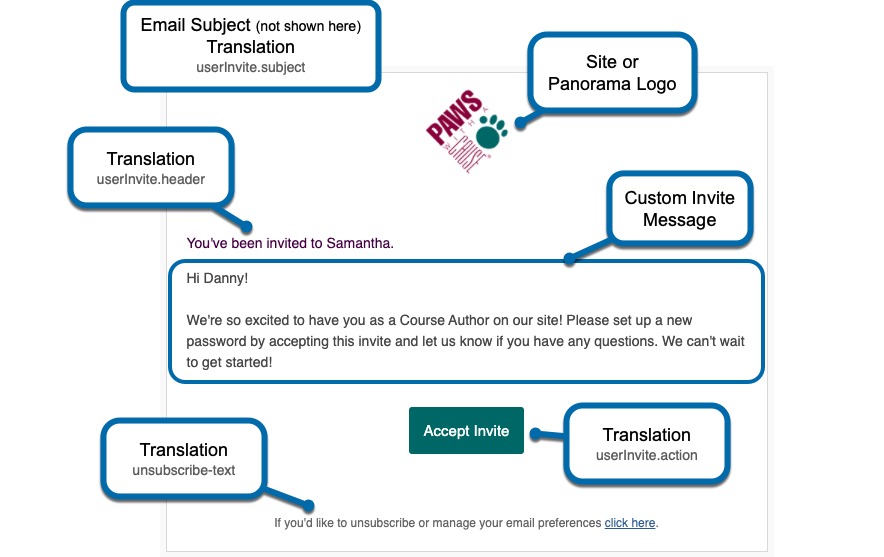 Note
Manager invitations do not expire. If you would like to revoke the invitation, you can disable the user and the invitation will no longer be valid.
Creating a Custom Manager Role
From your homepage, select Users.
From the left menu, select Managers.
In the left roles list, click Add Custom Role (button located after Default roles).

This will launch a guided four-step process to create a new custom role, outlined below.
First, you'll want to enter a name for your custom role in the Name This Role field.

Main site roles are designed to provide access to main site settings, content management, general reporting, and learner management. Default roles should not be provisioned access to Panoramas.Next, choose a Role Type - Main Site or Panorama.
Panorama roles are designed to provide access to Panorama license and sub-licenses for content management, user management, and reporting. Client roles should either be provisioned directly to a Panorama/sublicense or be granted permission to all (via the "Manage Multiple Clients" permission).

Click Next.

Choose a template as a starting point before you customize permissions.
If each user assigned to this role should have access to all courses, click the Has Access To All Courses? toggle to Yes in this step. If the toggle remains set to No, you'll be able to assign access to one or more specific courses when you invite each user.
Once you click on a template, scroll down to review the current permissions enabled for that template. You can also choose and review other templates before you move onto customization.
Click Next.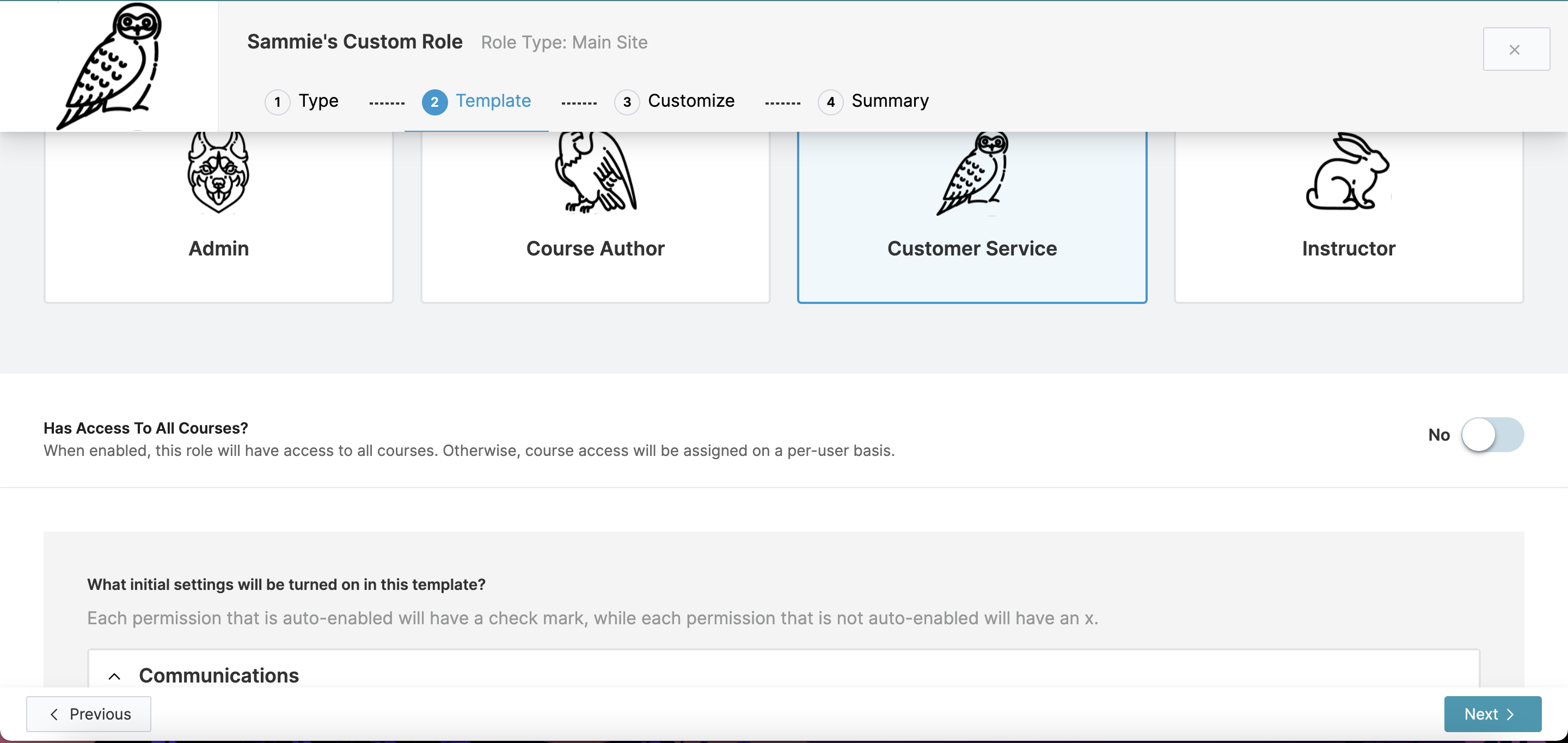 Now comes the fun part: customizing your manager role to fit your unique use case!
Read about each permission in the definitions column to get an idea of what you are granting access to.


Permissions are organized in categories - expand or collapse the list of permissions in the top right.

Click the check marks in the right column to enable a permission. Repeat for as many permissions as you wish to include.
You can always edit permissions later (after creation) by going to Users > Managers > click the Custom Role Title > click the Gear Icon (top right) > Edit Role Permissions > Customize step.


Click Next.
Note
If you selected Panorama Role Type, you'll see asterisks next to the permissions that should be used with caution. If enabled, these permissions could allow the custom role to see learner information or site information that doesn't apply to their assigned Panorama.
Review which permissions you've enabled before creating the custom manager role. Hover over the info icons to see the definitions again. To update a permission while on this screen, simply click the Customize step again to go back and edit.
If you're ready to invite users, click Create Role.
Next, start inviting users to this role by following steps 3-8 in the Inviting a Manager section above.

Tip
You can search across manager roles to locate a user. If your user search comes up with no results, check to see if the user's account is disabled by clicking on "View Disabled" for any manager role, then execute the search again.
Note
Emails in reports will only be linked if you have Manage Learners permission.