You can configure specific timeout periods and password requirements for each individual role within your learning site. There are default configurations, but we strongly encourage you to review and adjust your settings as needed.
01
Timeout Settings
Controls how long a user can be logged in to the site while inactive, before being automatically logged out.
02
Password Strength
Allows you to set a minimum password length, as well as a minimum requirements for numbers, symbols and uppercase characters.
Note
Password requirements only apply to learning sites that are using the Thought Industries registration/checkout flow. They do not apply in the case of SSO.
Configuring Timeout & Password Requirements
From your homepage, select Users.
From the left menu, select Managers.
Locate the role you wish to update and click into the role list.
In order to adjust your settings, click the gear icon in the top right of the screen. Then, click Edit Role Requirements.

On the landing screen, you can update the following settings:

Timeout After (due to inactivity)

Note

By default, the timeout period for any manager-type role is 1 day, for security purposes.

Reset Password (due to inactivity)

Note

The reset password setting allows you to force a password reset if a user hasn't logged in for a certain period time period. This is important to ensure security and prevents the login of any forgotten admin accounts (e.g., managers who have left your company.) We strongly recommend this be set at 1 month or less for all non-learner roles.

Minimum Password Length
Minimum Password Numbers
Minimum Password Symbols
Minimum Password Uppercases

Click Save.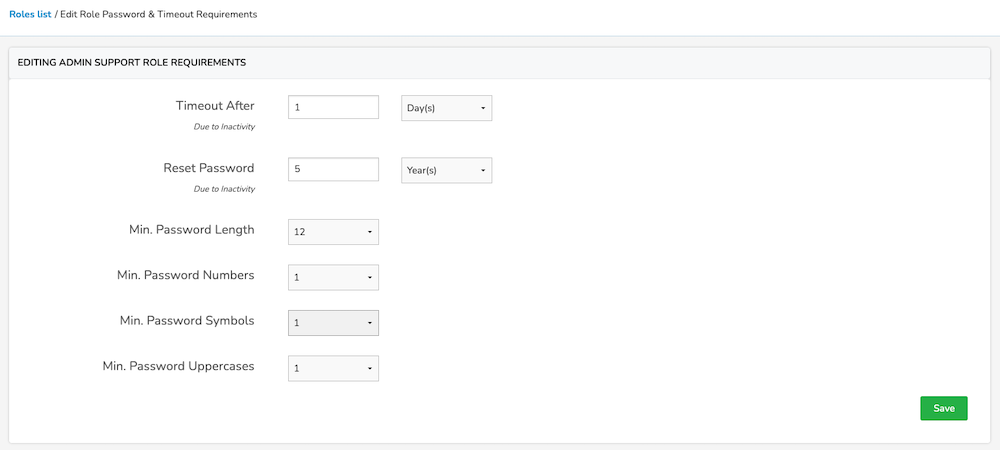 Tip
You can configure requirements for the default Learner role as well. Go to Users > Learners and click the gear icon in the top right, then click Edit Role Requirements.