Your Thought Industries platform has two areas where your users can consume content. One area is the public or global aspect of your site. The other area of your platform is what we refer to as Panorama. A Panorama is a portal that allows you to provision, license, rebrand, and customize content for a specific cohort of learners. We sometimes use the term "clients" interchangeably with Panorama.
Use Case Information
With Panorama, you can create clients and sublicenses on your learning site, which allows for various cohorts to have a fully white-labeled, branded experience and be segregated from other cohorts.
When configured you can control the following:
You can provision access to specific content to each cohort, track licensing details, view client reports, and much more.

This is most useful if you are selling or otherwise granting content access to other companies or even to departments within your organization.

Each client will have their own custom URL that can be fully branded to that group.

Learners will see a fully branded experience, including the client's logo and color scheme that will display throughout the entire learning experience (from the landing page to invite emails to learner dashboard and within the content learner view).

You can keep track of how each learner is progressing in each course and across all content in the client.
You can invite managers within each client to various roles, allowing them to help manage the client or view client reports, depending upon their permissions for these roles.
In this article, we will explain how to create a Panorama portal, as well as, help you recognize all of the available components that comprise a Panorama.
You can create Panoramas with ease using our inherent functionality.
From your homepage, select Panorama.
See our Creating a New Client article for more information on setting up your clients.
From the upper right portion of your screen, click Add Panorama.
Name your Panorama.
Once your Panorama is named, you can continue on the page with applying your Panorama portal settings (which will be explained later in this article).
Note
You will notice, once you name your Panorama, Thought Industries automatically generates the URL path for the landing page of the Panorama. While the name of your Panorama can be easily edited at any time, the URL path for the landing page can not, so be sure to curate the name of your Panorama with this in mind.
01
Panorama Manager Dashboard
Landing page for managing a panorama. Similar to the global Admin dashboard you can, depending on your role permissions, jump to certain settings like inviting learners, viewing content, or client reporting.
02
Sublicenses
Create and view groups, otherwise known as sublicenses, and structure the hierarchy based on reporting requirements. Edit sublicenses to add content, seat limits, or expiration dates. You can also delete sublicenses from this page.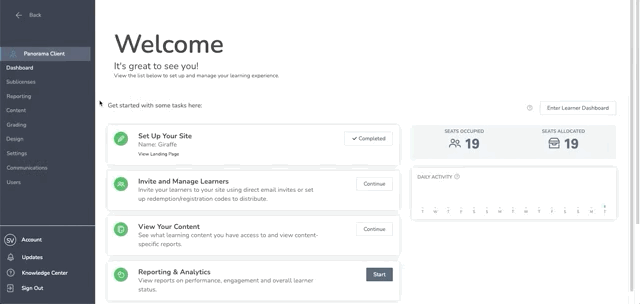 03
Reporting
View client level reports on onboarding responses (collected via Onboarding Survey), client engagement, content usage, and learner usage. See our article on Panorama Reporting for more information.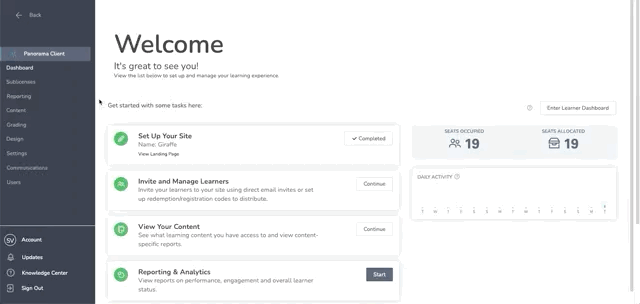 Tip
Panorama Admins and Managers do not have the permissions to built and customize the default Panorama reports, however, you can allow these roles to have those customizations if you prefer. Please refer to our article Panorama Reporting Hub if you are interested in turning on this feature for your Panoramas
04
Content
View a list of content provisioned to the panorama or assign specific courses or content to your client and customize catalog settings for your client's learner dashboard. See our Provisioning Access for Clients article for more information.
Tip
You can create a custom role that allows Panorama roles to create learning paths with due dates, send related Learner Notifications, and enroll learners when using Assigned Programs.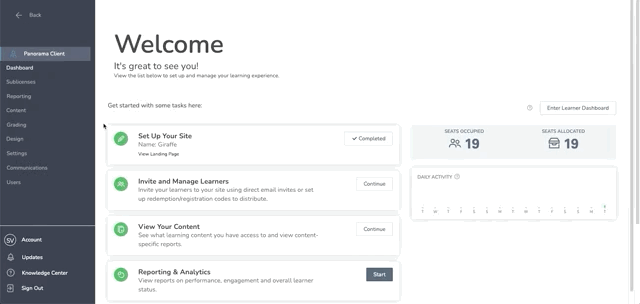 05
Grading
View assignment or quiz submissions from your Panorama learners and assign grades.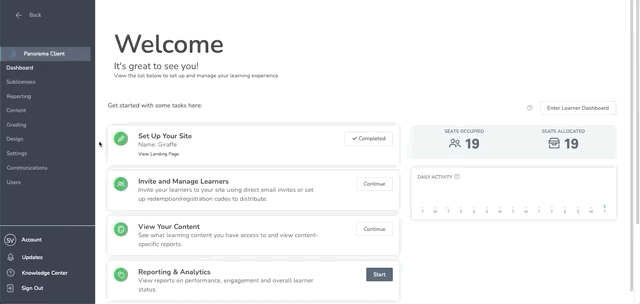 06
Design
Design elements set at your main/global area of the platform can be inherited by your Panorama portal, however, each Panorama portal affords you the opportunity to upload client logo, customize font and color scheme, design landing page and dashboard, and specify email settings differently for a more white-labeled experience. Logo and branding will persist for all learners throughout their experience on the Thought Industries platform, including registration, email invites, dashboard, and content view. See our Branding & Design for Panorama article for more information.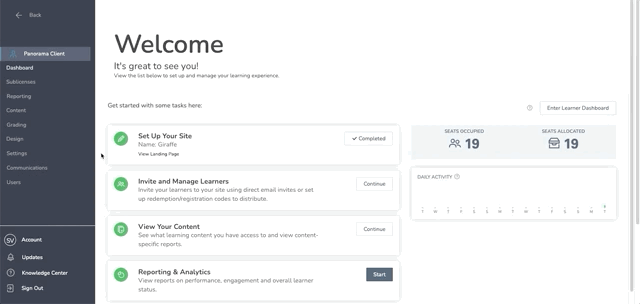 07
Settings
There are a few menu options inside of Panorama settings:
Primary

Manage Client Name, SKU, tags, and seat limit.
Access overall panorama settings for discussions, branding/design (also enabled from the Design page), custom email fields, onboarding survey (also enabled from the Onboarding Survey page), accessing content outside of the panorama (a.k.a. Purchasable Content), and always displaying the detail page to learners.
Disable or delete clients.
Generate Client API Key.

Single Sign On

If provisioning access on a separate site, complete redirect fields and complete CAS, SAML 2.0, or OPEN ID Connect settings, if appropriate. See our SSO Product Documentation article for more information.

Access

Another way to view and provision content to your client and customize catalog settings for your client's learner dashboard. See our Provisioning Access for Clients article for more information.

Copy

You can also choose to copy an existing client account, which copies over any sublicenses, branding settings, and associated content. Customizations that do not carry over are primary settings, onboarding responses, single sign-on settings, and learners. When copying, you will choose the new name and path. It will go into a queue and display in the main panorama list when it's ready.

Custom Domain

Custom Domains are a way to further customize the client's experience. Launch a custom URL from the panorama.
Note
Please note that the Panorama setting of Generate Client API Key is restricted to only allow access to the List Content API Endpoint.
Panorama Custom Domains are a premium feature and are behind a feature flag.
Please reach out to your Thought Industries representative for assistance to enable this feature in your instance.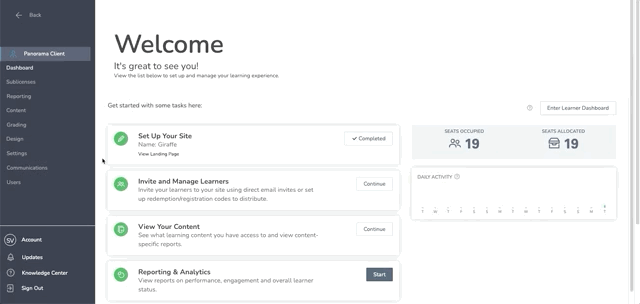 08
Communications
Email Panorama Learners or set up an Onboarding Survey.
Email
Onboarding Survey

Set up onboarding survey for a particular client to collect additional information about each learner and choose to link up to 3 data points to your learner in all applicable reports. See our Creating an Onboarding Survey article for more information.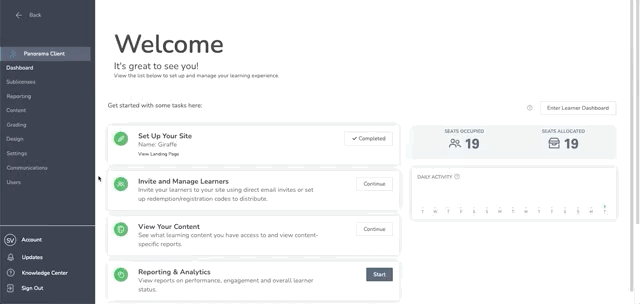 09
Users
View learners list, invite learners individually or in bulk, or create redemption/registration codes to distribute to learners. See our Managing Learners in Panorama article for more information.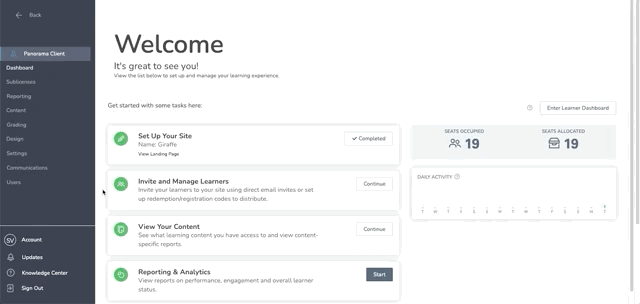 Tip
If your client would like their own learning site with an entire public site or you are finding limitations within the Panorama structure to best serve your client, we'd recommend considering a separate new instance instead of a Panorama. Separate instances are a premium feature.

Reach out to your Thought Industries representative for assistance in making this decision or guidance on next steps.