If you plan to offer multiple sessions of a course or webinar, you can create separate sessions with unique start and end dates.
Where do I find this?
Content > Actions > Settings > Manage
How do I do this?
From your dashboard, select Content.
Click the Actions drop-down next to the course you want to alter and select Settings.
Select Manage from the left side menu.
Click Create New Session at the bottom of the page.
For courses:

Enter the new Session Start Date and Session Name (which will be appended to the original course name).
Click Save & Create New Session.

For webinars:

Choose your webinar connection and enter a Session Name
Click Save & Create New Session. Or, import existing webinar.
What else do I need to know?
This essentially creates a copy of the course and related settings. You can then edit the course outline and settings, as needed, for your new session.
To finalize the new session, you must update the following:

Settings > Access: Update enrollment start/end dates and add course end date (if necessary). Click Save.
Outline > Publish
Outline > Release Course

You have the ability to Release All/Unrelease All sessions from the main content list (navigate to Content from the manager dashboard). Click the Actions dropdown for the course group and click "Release All" or "Unrelease All".
What does this look like?
Learner View: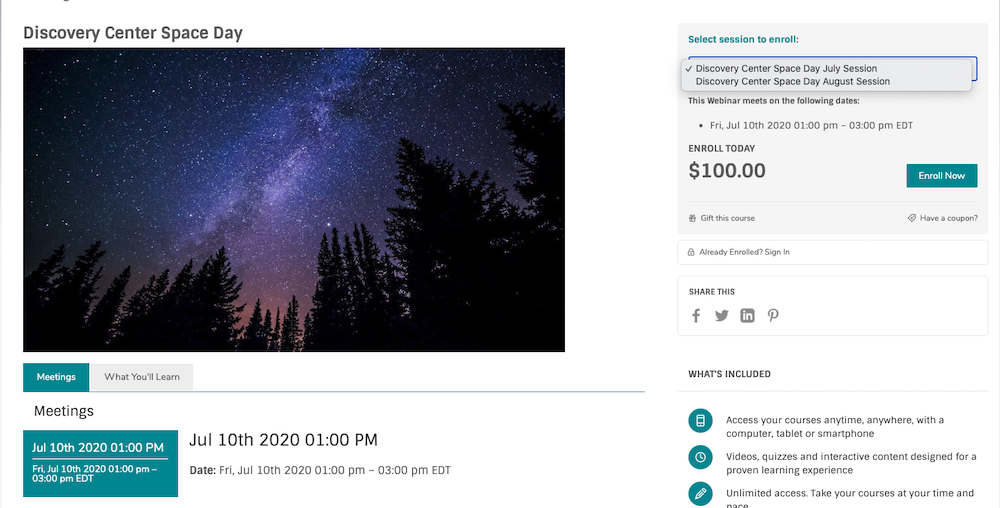 Admin View: