Why would you use a MicroCourse? MicroCourses are used for Microlearning, a practice of enhancing learning and performance in the most efficient and effective manner possible through short pieces of content
Use Case Information
MicroCourses are a single lesson content type that allow you to create engaging, hyper-relevant content for your learners. They are quicker to develop, but have all of the same robust features as a regular course.
MicroCourses help you with the following:
Focused and engaging: Cover the topics your learners want in a highly digestible and memorable way. Meet learners at their moment of need with hyper-focused content, available at their fingertips.
Quick to produce: Bite-sized learning is much quicker to create than traditional full-length Courses. Develop and release content faster than ever, to keep your learning site constantly fresh and up-to-date.
Low commitment: Learners can explore a new subject while you test out the demand for a new topic. Use MicroCourses to market new offerings and then upsell learners to longer programs of learning once you have them hooked.
Lightweight yet robust: MicroCourses combine the best of both worlds. They are short and sweet, like our other microlearning options, yet also include all the valuable Course utilities and features.
Creating a MicroCourse Template
Before you can jump into creating individual MicroCourse content items, we first need to create a Content Type based on the MicroCourse template. 
Tip
If you've already done this step, skip ahead to creating MicroCourses!
Go to Settings > Content > Content Types.
Click Add Content Type. 
Add a Name and a Description.
Choose the MicroCourse Template.
Click Save.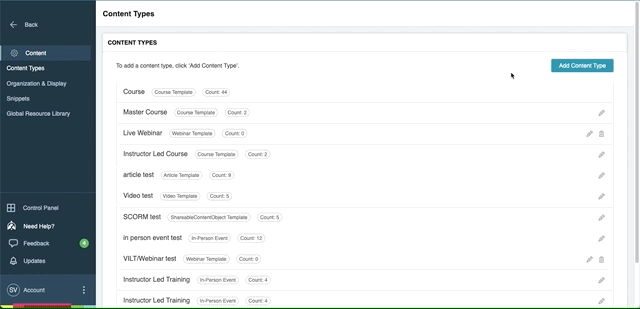 Creating a MicroCourse Content Item
Now that you've set up a MicroCourse Content Type, you'll see it as an option when you go to add a new content item.
Go to Content > Manage Content > Click the plus icon in the top right corner to Add New Content.
Choose your MicroCourse Content Type by clicking the Add button.
Give your MicroCourse a title and click Save. 

Note

Remember MicroCourses are a single-lesson course so you'll notice some differences from the typical course structure, like no sections or multiple lessons.

Start adding course pages to your content by clicking Add Page.
Choose your page type and make sure to give your page a title. 

Note

Page Titles will display to the learner in the MicroCourse.

Tip

One cool addition to MicroCourses is a page description! Click on the Description button next to the Page Title to give your page a description and a label. Most people will use the label for an estimated time to complete the page, but it's totally up to you!

The description and label will display to the learner in the MicroCourse syllabus.

Continue to fill out your content by adding more pages. Remember to Save your pages as you author.
Follow the authoring steps to finish configuring your content.
When you're ready to show off your MicroCourse, don't forget to hit Publish or Publish Changes in the outline and release to learners in your preferred method.
The learner experience will be slightly different than a regular course. 
In MicroCourses, the syllabus on the left hand side of the course experience will display the page title, page description (optional), and a check mark for complete pages. The page title will also display at the top of each MicroCourse page.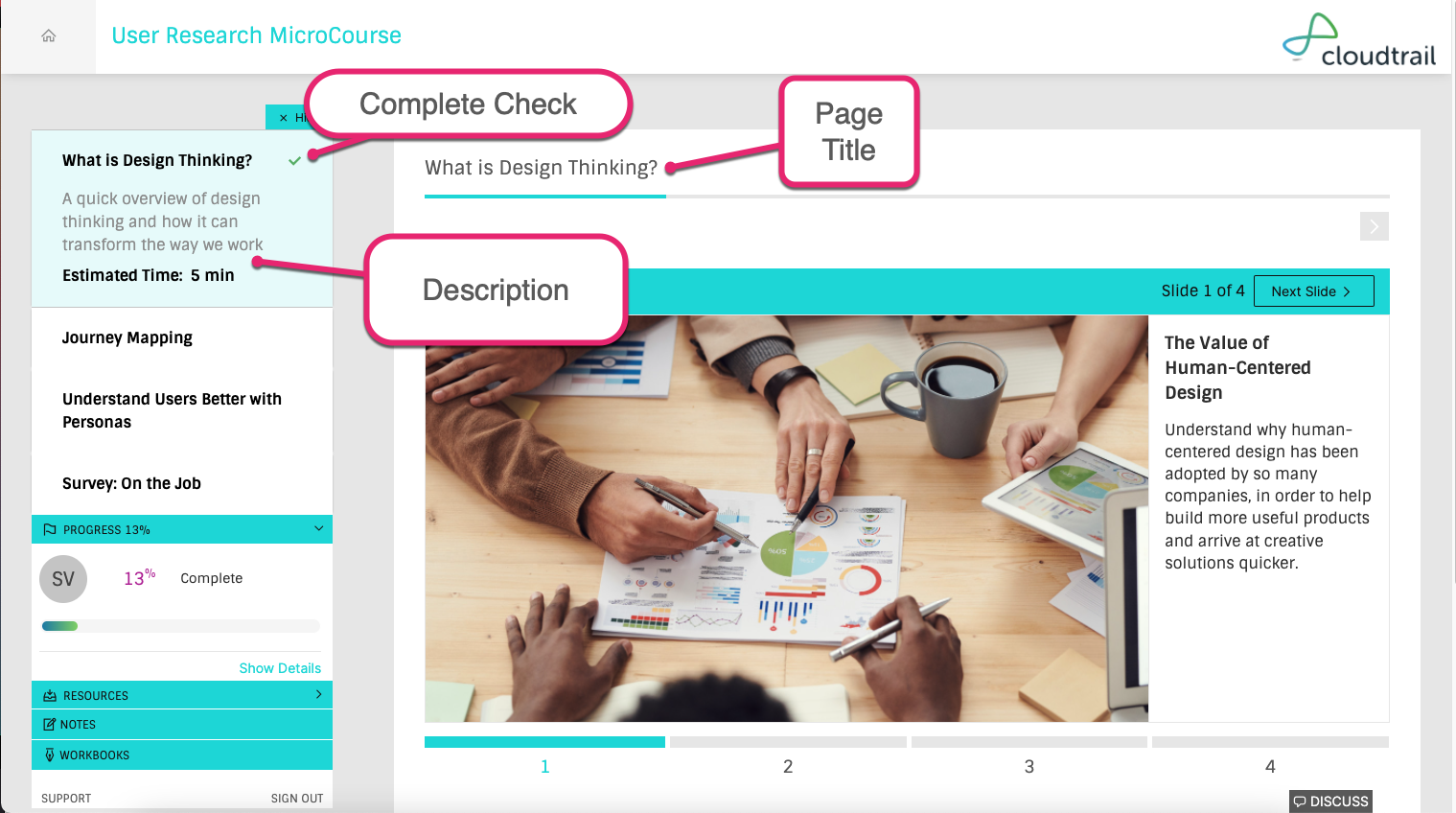 MicroCourse Similarities & Differences from Courses
01
Similarities
Courses and microcourses share a lot of the same features when it comes to course authoring and configuration. Here are a few other features outside of course authoring that we wanted to call out:
Course Authoring URLS (/learn/course)
Translations
Detail Page Layout
02
Differences
Some of the ways MicroCourses are different from regular courses in the course authoring experience and the learner facing experience:
No sections or multiple lessons
Page titles display to the learner in MicroCourses
Page Descriptions are available in MicroCourses
In MicroCourses, pages display a check complete or no check for not complete