When enabled, Ecommerce items will display in your site catalog (on the public catalog and also within the Catalog widget on the learner dashboard, if applicable). Your learners will be able to view and access these items directly from the catalog. This is available for subscriptions, products, course collections and a la carte collections.
Where do I find this?
Ecommerce > Ecommerce Items > Add Ecommerce Item
How do I do this?
From your homepage, select Ecommerce.
From here, you can add a brand new Ecommerce item by clicking Add eCommerce Item. You will be prompted to select a type:

Subscription
Product
Course collection
A la carte course collection

You will then be asked to add the item's settings (name, description, image, pricing, etc.)
You can also modify an existing Ecommerce item by clicking the Actions drop-down next to the item and selecting Edit. This will take you to the item's settings.
Whether adding a new eCommerce item, or modifying an existing one, you must toggle the "Show In Content Catalog" setting to "Yes".
Make sure all applicable settings are configured and then click Save.
What else do I need to know?
When learners click on the item thumbnail from the catalog, they will be taken to the appropriate detail page.
You can also customize the "type" of item that will appear in the catalog. Within the item's settings, scroll down to the Type field just beneath the Show in Content Catalog? toggle. As you'll see, the type will default to the type provided by the system (i.e. Product Type, Subscription Type). Alternatively, you can erase the default option and create a new one by typing it in and hitting enter.
What does this look like?
Learner View - Catalog widget: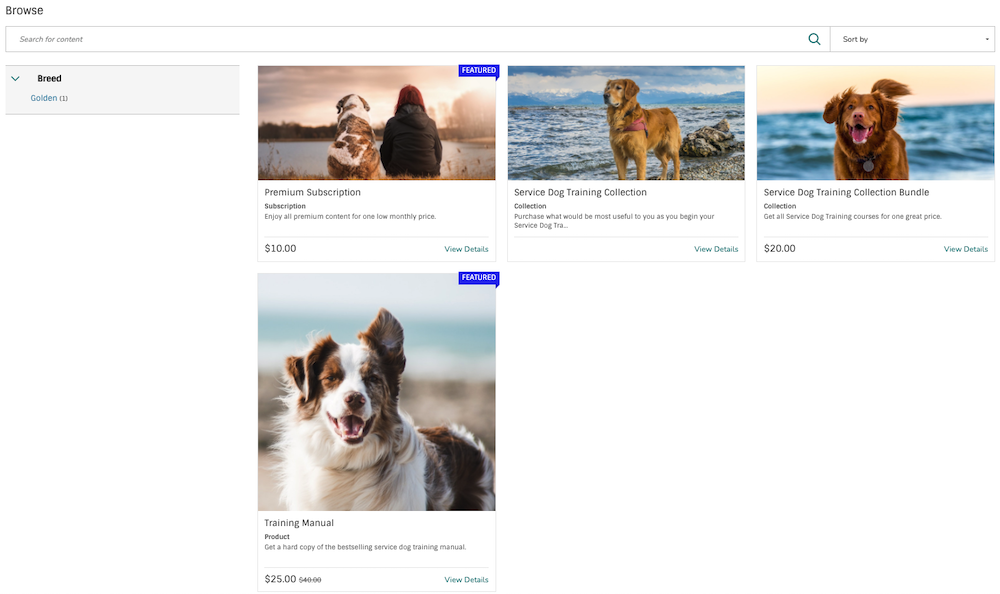 Admin View - add new ecommerce item: