Creating a page in a course with too much information could discourage your learners or worse, impede the user from learning! The Thought Industries native authoring tool allows you to be innovate and captivating with how you present information to your learners and the List Roll page particularly is perfect for learner engagement and retention.
Use Case Information
The List Roll page allows you to separate content into clear lists and topics to present if you need to include a great deal of information on one page. Images can even be included, although, not required.

Learner View: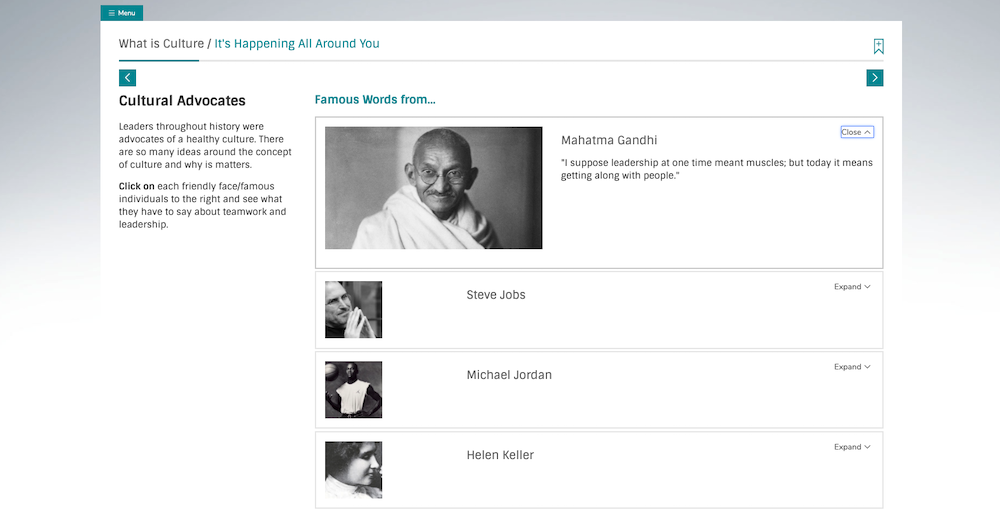 How To Incorporate the List Roll Page Into a Course
Below, please find the steps to include this Content Page Type into your course:
From your homepage, select Content, then Manage Content.
Click the Content Title for to the course you want to alter.
Within the course outline, go to the lesson where you'd like to add a list roll page. Click Add Page.
Choose the List Roll page type.

Add a page title.
Click Save.
Click Add Description to add information that will display to the left of the list (optional), and then click Save.
Click Add a List and then add a List Title. Click Save.
Click Add Item to add your first item to the list.
Enter an Item Title (required). Upload an Image, add an Item Description and Customize your icon for your Description (optional).

Note

Always be sure to follow the specification for loading assets into the platform stated in the container. All List Roll images are required to be 600px x any height(72dpi) jpg. For a complete list of specifications for assets, please refer to this article.

If you would like to attach a resource directly to a list item click Add a Resource. Search for the resource you want to link, or customize an icon for the link to the external resource.

Note

A resource in this case can only be a course page that has already been added to the course resource library. Go to this article for more guidance on adding resources to courses.

Click Save Item.
Continue adding lists and items until complete.
Admin View of this page type:

You can also find the following options under Advanced Settings:

Unlocking for editing by children? - This offers Panorama roles, who have the permission, to edit this page in your course.
Indentation Level -

The Indentation Level is behind a feature flag.

This allows for the syllabus in the course menu to be indented. When enabled, you can nest pages under each other.

# of seconds required for completion - Number of seconds required to mark this page as complete. If set, the learner must remain on the page (without refreshing or going to another page) for the number of seconds specified in order to be marked complete.
Audio Narration File - Although it is not system functionality to record audio in the platform, you can upload audio files.

Click Save.
Tip
A text block editor (WYSIWYG) is available on the top and bottom of all page types in the native course authoring tool to provide even more information to your learners.