Engagement within a learning experience can be measured in many different ways. One way to get your learners more involved and engaged in a course is by adding an Assignment page and creating a Discussion Assignment. Learners can respond to a discussion prompt, interact with classmates and the instructor, and receive a grade for their participation.
Where do I find this?
Content > Manage Content > Click on Content Title > Add Page > Assignment Page > Assignment Options > Enable Discussion Assignment
How do I do this?
To enable discussion assignments:
Once you've added an assignment page, go to Assignment Options and toggle "Enable Discussion Assignment?" to "Yes".




Once enabled, another toggle will appear: "Hide discussion until Learner submits a comment?"
Toggle this to "Yes" if you would like learners to first submit their own response to the discussion prompt before seeing what other learners have submitted in the full discussion thread.
To grade a discussion assignment:
From the admin homepage, go to Grading.

Once the learner has submitted their first comment, the assignment will show here.

Click into the assignment you would like to grade or review.
The learner's original submission (or comment) and any replies they've submitted will display here.

Note

Replies to the learner's original submission cannot be viewed in full from this page. You can see that there are replies to their comment and how many, but we only display comments or replies submitted by the learner specific to the assignment you are viewing in the Grading interface. To view the full discussion, click the link "View the full discussion" from the Grading interface to view replies to the learner's original submission.

Input a Grade and select a Status. Once you select a Status, a Save Grade button will appear. Enter any submission feedback (optional) and click Save Grade.


Tip

Use submission feedback if you'd like it to show directly under the grade on the Assignment page and are not encouraging a response back from the learner.

Use the discussion feedback area in the grading interface if you would like to encourage a conversation with your learner or need clarification on something.
Assignment Page Submission: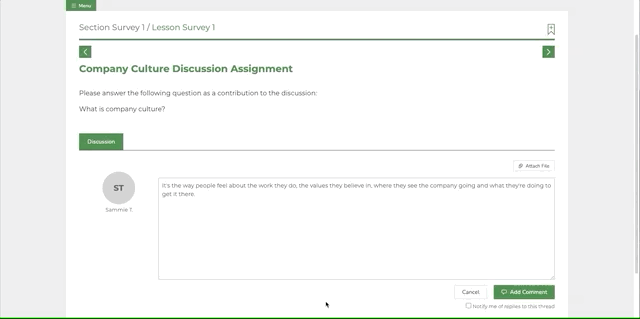 Assignment Received: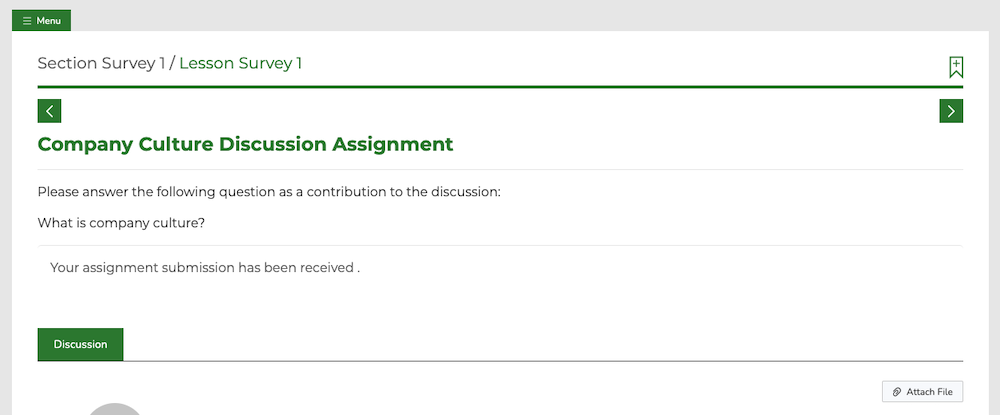 Assignment Graded: